Lab Test | Basic Full Body Test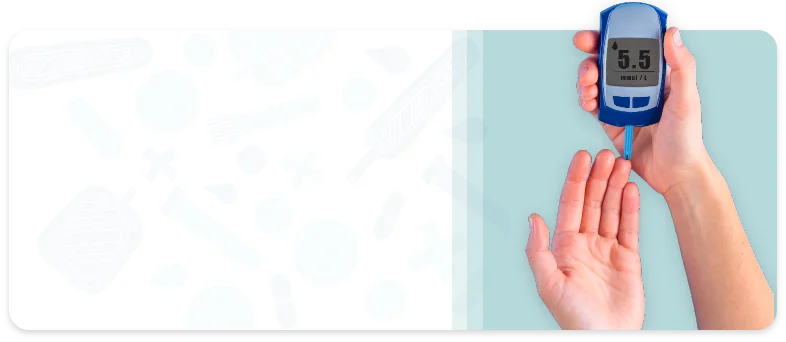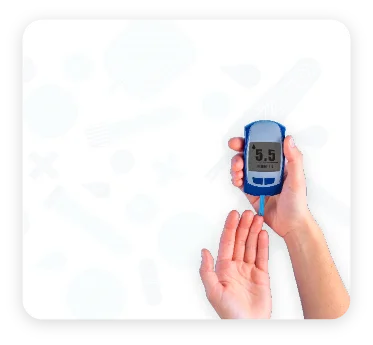 Basic Full Body Test
(Inclusive of GST*)
11 Packages included
HAEMOGLOBIN
TOTAL LEUCOCYTE COUNT
PCV
RBC
MEAN CORP VOLUME (MCV)
MEAN CORP HB (MCH)
MEAN CORP HB CONC (MCHC)
RDW – CV
RDW – SD
RDWI
GREEN & KING INDEX
NEUTROPHILS
LYMPHOCYTES
MONOCYTES
EOSIONOPHILS
BASOPHILS
ABSOLUTE NEUTROPHIL COUNT
ABSOLUTE LYMPHOCYTE COUNT
ABSOLUTE MONOCYTE COUNT
ABSOLUTE EOSINOPHIL COUNT
ABSOLUTE BASOPHIL COUNT
PLATELET COUNT (PLT)
MPV
ESR
SERUM ALB/GLOBULIN RATIO
ALKALINE PHOSPHATASE
BILIRUBIN -DIRECT
BILIRUBIN (INDIRECT)
BILIRUBIN - TOTAL
GAMMA GLUTAMYL TRANSFERASE (GGT)
PROTEIN - TOTAL
ALBUMIN - SERUM
SERUM GLOBULIN
ASPARTATE AMINOTRANSFERASE (SGOT )
ALANINE TRANSAMINASE (SGPT)
Creatinine
Urea
BUN
Potassium
Sodium
Chlorides
Proteins- Total
Albumin
Globulin
A/G Ratio
TOTAL CHOLESTEROL
SERUM TRIGLYCERIDES
SERUM HDL CHOLESTEROL
SERUM LDL CHOLESTEROL
SERUM VLDL CHOLESTEROL
TOTAL CHOL/HDL CHOLESTEROL RATIO
LDL/HDL CHOLESTEROL RATIO
HDL/LDL CHOLESTEROL RATIO
Iron
TIBC
Transferrin Saturation
VOLUME
COLOUR
APPEARANCE
SPECIFIC GRAVITY
PH
URINARY PROTEIN
URINARY GLUCOSE
URINE KETONE
URINARY BILIRUBIN
UROBILINOGEN
BILE SALT
BILE PIGMET
URINE BLOOD
NITRITE
MICROALBUMIN
MUCUS
RED BLOOD CELLS
URINARY LEUCOCYTES (PUS CELLS)
EPITHELIAL CELLS
CASTS
CRYSTALS
BACTERIA
YEAST
PARASITE
HAEMOGLOBIN
TOTAL LEUCOCYTE COUNT
PCV
RBC
MEAN CORP VOLUME (MCV)
MEAN CORP HB (MCH)
MEAN CORP HB CONC (MCHC)
RDW – CV
RDW – SD
RDWI
GREEN & KING INDEX
NEUTROPHILS
LYMPHOCYTES
MONOCYTES
EOSIONOPHILS
BASOPHILS
ABSOLUTE NEUTROPHIL COUNT
ABSOLUTE LYMPHOCYTE COUNT
ABSOLUTE MONOCYTE COUNT
ABSOLUTE EOSINOPHIL COUNT
ABSOLUTE BASOPHIL COUNT
PLATELET COUNT (PLT)
MPV
ESR
SERUM ALB/GLOBULIN RATIO
ALKALINE PHOSPHATASE
BILIRUBIN -DIRECT
BILIRUBIN (INDIRECT)
BILIRUBIN - TOTAL
GAMMA GLUTAMYL TRANSFERASE (GGT)
PROTEIN - TOTAL
ALBUMIN - SERUM
SERUM GLOBULIN
ASPARTATE AMINOTRANSFERASE (SGOT )
ALANINE TRANSAMINASE (SGPT)
Creatinine
Urea
BUN
Potassium
Sodium
Chlorides
Proteins- Total
Albumin
Globulin
A/G Ratio
TOTAL CHOLESTEROL
SERUM TRIGLYCERIDES
SERUM HDL CHOLESTEROL
SERUM LDL CHOLESTEROL
SERUM VLDL CHOLESTEROL
TOTAL CHOL/HDL CHOLESTEROL RATIO
LDL/HDL CHOLESTEROL RATIO
HDL/LDL CHOLESTEROL RATIO
Iron
TIBC
Transferrin Saturation
VOLUME
COLOUR
APPEARANCE
SPECIFIC GRAVITY
PH
URINARY PROTEIN
URINARY GLUCOSE
URINE KETONE
URINARY BILIRUBIN
UROBILINOGEN
BILE SALT
BILE PIGMET
URINE BLOOD
NITRITE
MICROALBUMIN
MUCUS
RED BLOOD CELLS
URINARY LEUCOCYTES (PUS CELLS)
EPITHELIAL CELLS
CASTS
CRYSTALS
BACTERIA
YEAST
PARASITE
Specialised Plans
with Doctor consultations, Lab Tests and more
Basic
24/7 Doctor-on-Call Health Package

Consultations with: 24/7 General Physician (5), Nutritionist (2)

Value Added benefits: Personalised Diet Chart, 24/7 Consultation

Lab Tests for: Full Body Check-up (1)

24/7 General Physician Consultation & Support

Receive Digital Prescriptions

Free Home sample collection for Tests

Reports within 24 hours

Free Doctor Consultation on Reports
Advanced
24/7 Doctor-on-Call Unlimited Health Package

Consultations with: 24/7 General Physician (Unlimited), Nutritionist (2)

Value Added benefits: Personalised Diet Chart, 24/7 Consultation

Lab Tests for: Full Body Check-up (2)

24/7 General Physician Consultation & Support

Receive Digital Prescriptions

Free Home sample collection for Tests

Reports within 24 hours

Free Doctor Consultation on Reports
Basic Full Body Test
(Inclusive of GST)
Why Livlong 365 ?
Free home sample collection

Free Doctor consultation on reports

Servicing
19000+ pincodes
About Basic Full Body Test
The proverb 'prevention is better than cure' is one that we have all heard. To prevent significant health issues later in life, people must start taking care of their health from an early age. People of all age groups are advised to get a full-body health check-up at least once a year. However, a lot of people either disregard the significance of routine health check-ups or just take their well-being for granted. You should be aware of the fact that by taking care of your health today, you can avoid having to spend a fortune treating a condition that may go unnoticed or untreated at an early stage.
Types of tests included in full body check-up
A full body check-up typically includes a comprehensive range of tests to assess the overall health of an individual. The following tests are typically included in a full body check-up package:
1. Complete blood count (CBC)

2. Blood sugar (fasting and PP)

3. pver function test (LFT)

4. Kidney function test (KFT)

5. ppid profile

6. Thyroid function test (TFT)

7. Electrolyte panel

8. Vitamin D level

9. Uric acid level

10. Haemoglobin A1C (HbA1c)

11. Chest X-Ray

12. ECG

13. Ultrasound (abdomen and pelvis)

14. PSA (prostate-specific antigen) test (for males)

15. Mammogram (for females)
Additionally, some health check-up packages may also include tests for HIV, Hepatitis B and C, as well as Vitamin B12 levels. It's important to consult a general physician to determine which tests are necessary and relevant for you based on your medical history and current health status.
Benefits of full body-check-up
Early detection of hidden diseases:

Routine health examinations aid in the early detection of undiagnosed illnesses or medical conditions. When an illness is discovered at a later stage, internal harm has already been done, which makes treatment of the disease further difficult.

Diagnosis of any kind of illness:

A complete physical examination makes it possible to find any kind of ailment in any section of the body.

Appropriate treatment planning:

A lot of time can be saved by the early detection of severe and minor diseases and their management. Doctors can diagnose a condition and plan a perfect remedy through appropriate examination and testing. They can offer advice on the safety precautions to be taken to prevent additional harm.

Awareness of potential threats:

This inclusion contributes to raising awareness of potential health risks. Doctors use diagnostic tests to identify early risk factors, offer preventative and minimally invasive interventions, check the effectiveness of treatment, and monitor the course of disease.

Low medical costs:

When done at the appropriate time, full body check-up is not particularly expensive. However, some ailments may go unnoticed and worsen over time if regular health examinations are postponed. When this happens, medical expenses soar well beyond what they would have been had the illness been identified earlier and treated promptly.
Full body check-up price
The cost of a full-body check-up varies depending on the location, facility, and types of the tests included. On average, it can range from INR 799 to INR 20,000 depending on the package and the diagnostic centre. It's best to check with local clinics or hospitals for their specific pricing. People can also check if insurance coverage is available.
Frequently Asked Questions
A full body check-up typically includes:
Physical examination
Blood tests, such as complete blood count, kidney and liver function tests, lipid profile, and thyroid test
Urinalysis
Chest X-ray
ECG
Lung function tests
Screening for sexually transmitted infections
Pap smear test (for women)
Mammogram (for women)
PSA test (for men)
It is recommended to undergo a full body check-up at least once a year to maintain a comprehensive understanding of one's health and identify any potential health concerns early.
Full body check-up package can be customised based on personal medical history, age, gender, and family history of specific health conditions. For example, a person with a family history of heart disease may have more tests for heart health or a woman over 50 may prefer to opt for a bone density test. It's best to consult a doctor to determine what tests are necessary for a specific individual.
A full body check-up typically takes 1 to 2 hours, including preparation time. The length of the check-up can vary based on the type of test and the individual's health status. Blood tests, X-rays, and other diagnostic tests can take anywhere from 30 minutes to several hours. It is important to arrive on time and be prepared for the check-up by fasting, wearing comfortable clothing, and bringing any relevant medical information.
A full body check-up is recommended for individuals to assess their overall health and detect any potential health issues early on. A full body check-up package includes a comprehensive evaluation of various body systems, such as cardiovascular, respiratory, digestive, and nervous systems as well as a thorough physical examination, blood tests, and imaging scans. Regular check-ups, especially for those over 40 years, can help identify risk factors and prevent serious health problems. However, the frequency of check-ups should be determined based on individual health status, family history, and lifestyle habits. You should consult your doctor to determine the right schedule for you.
A full body check-up is suggested for adults at least once a year to maintain good health and identify any potential health issues early on. It's especially important for people with a family history of chronic diseases, lifestyle-related health issues, and for those over the age of 40 years. A full body check-up includes thyroid profiling, kidney functioning, lipid profiling, CBC, liver function, analysis of urine, as well as diabetes and vitamin profiling based on individual health needs and risks. Regular check-ups can help detect and prevent chronic illnesses, monitor any existing medical conditions, and help maintain a healthy lifestyle. It's always advisable to have a general physician consultation for personalised recommendations.
Authentic Reports
From NABL certified labs across India
Good Health = Happy Customers
I did a diabetes test. Everytime testing, going to lab centers, very difficult. Home sample collection made my life so easier now. Great job LivLong 365. Providing Diabetes tests at home!
My husband had high fever. My son was out of town. He just arranged for his tests. We didn't have to go anywhere. I was worried how would manage alone. My son solved my problem with the help of LivLong 365.
Medically everything costs so much today. Getting such a good price for my thyroid test, it really helps. I don't know how you manage but keep giving such good prices for all your diagnostic tests. Thanks.