Lab Test | Advance Full Body Test (for Couple 1+1)
Advance Full Body Test (for Couple 1+1)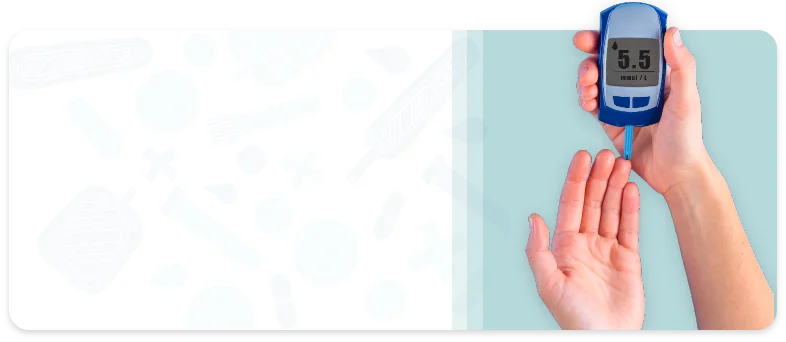 Advance Full Body Test (for Couple 1+1)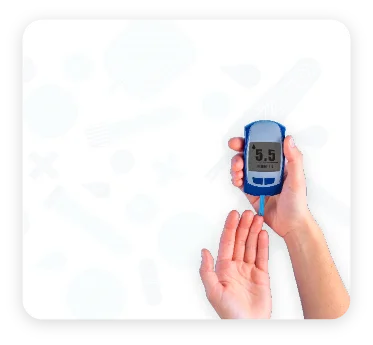 Advance Full Body Test (for Couple 1+1)
(Inclusive of GST*)
15 Packages included
HAEMOGLOBIN
TOTAL LEUCOCYTE COUNT
PCV
RBC
MEAN CORP VOLUME (MCV)
MEAN CORP HB (MCH)
MEAN CORP HB CONC (MCHC)
RDW – CV
RDW – SD
RDWI
GREEN & KING INDEX
NEUTROPHILS
LYMPHOCYTES
MONOCYTES
EOSIONOPHILS
BASOPHILS
ABSOLUTE NEUTROPHIL COUNT
ABSOLUTE LYMPHOCYTE COUNT
ABSOLUTE MONOCYTE COUNT
ABSOLUTE EOSINOPHIL COUNT
ABSOLUTE BASOPHIL COUNT
PLATELET COUNT (PLT)
MPV
ESR
SERUM ALB/GLOBULIN RATIO
ALKALINE PHOSPHATASE
BILIRUBIN -DIRECT
BILIRUBIN (INDIRECT)
BILIRUBIN - TOTAL
GAMMA GLUTAMYL TRANSFERASE (GGT)
PROTEIN - TOTAL
ALBUMIN - SERUM
SERUM GLOBULIN
ASPARTATE AMINOTRANSFERASE (SGOT )
ALANINE TRANSAMINASE (SGPT)
Creatinine
Urea
BUN
Potassium
Sodium
Chlorides
Proteins- Total
Albumin
Globulin
A/G Ratio
TOTAL CHOLESTEROL
SERUM TRIGLYCERIDES
SERUM HDL CHOLESTEROL
SERUM LDL CHOLESTEROL
SERUM VLDL CHOLESTEROL
TOTAL CHOL / HDL CHOLESTEROL RATIO
LDL / HDL CHOLESTEROL RATIO
HDL / LDL CHOLESTEROL RATIO
Iron
TIBC
Transferritin Saturation
VOLUME
COLOUR
APPEARANCE
SPECIFIC GRAVITY
PH
URINARY PROTEIN
URINARY GLUCOSE
URINE KETONE
URINARY BILIRUBIN
UROBILINOGEN
BILE SALT
BILE PIGMET
URINE BLOOD
NITRITE
MICROALBUMIN
MUCUS
RED BLOOD CELLS
URINARY LEUCOCYTES (PUS CELLS)
EPITHELIAL CELLS
CASTS
CRYSTALS
BACTERIA
YEAST
PARASITE
HAEMOGLOBIN
TOTAL LEUCOCYTE COUNT
PCV
RBC
MEAN CORP VOLUME (MCV)
MEAN CORP HB (MCH)
MEAN CORP HB CONC (MCHC)
RDW – CV
RDW – SD
RDWI
GREEN & KING INDEX
NEUTROPHILS
LYMPHOCYTES
MONOCYTES
EOSIONOPHILS
BASOPHILS
ABSOLUTE NEUTROPHIL COUNT
ABSOLUTE LYMPHOCYTE COUNT
ABSOLUTE MONOCYTE COUNT
ABSOLUTE EOSINOPHIL COUNT
ABSOLUTE BASOPHIL COUNT
PLATELET COUNT (PLT)
MPV
ESR
SERUM ALB/GLOBULIN RATIO
ALKALINE PHOSPHATASE
BILIRUBIN -DIRECT
BILIRUBIN (INDIRECT)
BILIRUBIN - TOTAL
GAMMA GLUTAMYL TRANSFERASE (GGT)
PROTEIN - TOTAL
ALBUMIN - SERUM
SERUM GLOBULIN
ASPARTATE AMINOTRANSFERASE (SGOT )
ALANINE TRANSAMINASE (SGPT)
Creatinine
Urea
BUN
Potassium
Sodium
Chlorides
Proteins- Total
Albumin
Globulin
A/G Ratio
TOTAL CHOLESTEROL
SERUM TRIGLYCERIDES
SERUM HDL CHOLESTEROL
SERUM LDL CHOLESTEROL
SERUM VLDL CHOLESTEROL
TOTAL CHOL / HDL CHOLESTEROL RATIO
LDL / HDL CHOLESTEROL RATIO
HDL / LDL CHOLESTEROL RATIO
Iron
TIBC
Transferritin Saturation
VOLUME
COLOUR
APPEARANCE
SPECIFIC GRAVITY
PH
URINARY PROTEIN
URINARY GLUCOSE
URINE KETONE
URINARY BILIRUBIN
UROBILINOGEN
BILE SALT
BILE PIGMET
URINE BLOOD
NITRITE
MICROALBUMIN
MUCUS
RED BLOOD CELLS
URINARY LEUCOCYTES (PUS CELLS)
EPITHELIAL CELLS
CASTS
CRYSTALS
BACTERIA
YEAST
PARASITE
Specialised Plans
with Doctor consultations, Lab Tests and more
Basic
24/7 Doctor-on-Call Health Package

Consultations with: 24/7 General Physician (5), Nutritionist (2)

Value Added benefits: Personalised Diet Chart, 24/7 Consultation

Lab Tests for: Full Panel Check-up (1)

24/7 General Physician Consultation & Support

Receive Digital Prescriptions

Free Home sample collection for Tests

Reports within 24 hours

Free Doctor Consultation on Reports
Advanced
24/7 Doctor-on-Call Unlimited Health Package

Consultations with: 24/7 General Physician (Unlimited), Nutritionist (2)

Value Added benefits: Personalised Diet Chart, 24/7 Consultation

Lab Tests for: Full Body Check-up (2)

24/7 General Physician Consultation & Support

Receive Digital Prescriptions

Free Home sample collection for Tests

Reports within 24 hours

Free Doctor Consultation on Reports
Advance Full Body Test (for Couple 1+1)
(Inclusive of GST)
Why Livlong 365 ?
Free home sample collection

Free Doctor consultation on reports

Servicing
19000+ pincodes
About Advance Full Body Test (for Couple 1+1)
The health and well-being of your body are a top priority. This makes it necessary to schedule health check-ups with your physician at regular intervals, similar to regularly scheduled maintenance on your car.
Receiving timely preventive health care, early disease diagnosis, dental check-ups, general physician consultations, vaccinations, and immunisations play a vital role in preventing any type of health issue. To fulfil these wellness goals, you can avail of LiveLong's advanced full-body health check-up packages for yourself and your family.
In this fast-paced world where work and household responsibilities often end up taking more precedence than physical health. LivLong's full body-check-up for couples' package will help you and your partner to prioritise your health once again. Enjoy free home sample collection, reports within 24 hours, and free doctor consultation along with this package.
Don't allow yours and your partner's health to take a backseat anymore, and order this full-body health check-up for a couple package. The package includes the following tests:
Complete Blood Count
Liver Function Test
Renal Function Test
ESR (erythrocyte sedimentation rate)
Lipid Panel
Thyroid Profile
Fasting Blood Sugar
Iron Study
Vitamin B12
Vitamin D3
PSA screening (prostate cancer screening)
Urine R/M
HbA1c (measures the amount of blood sugar glucose attached to haemoglobin)
CA 125 (measures the amount of the protein CA 125 in the blood)
Hormones Profile
What is an advanced full-body check-up?
An advanced full-body check-up includes most of the blood and urine tests required for essential health monitoring. The package includes kidney and liver function tests, as well as a lipid profile, a thyroid profile, a complete blood count, and a urine routine test. This package can aid in the early detection of some illnesses' symptoms and other health issues. The advanced full body check-up is appropriate for all age groups and should be performed every 6 to 12 months, or as directed by your doctor.
When should you get a full body check-up?
A full-body health check-up is strongly recommended for the management of certain medical issues, or if you want to do a routine check of all health markers. A full-body wellness check-up will enable the physician to identify any diseases and determine the appropriate treatment, or alter the treatment if you are already under medication.
What diseases can be detected by a full body check-up?
A full body check-up can detect a variety of diseases, including cardiac problems, diabetes, vitamin and mineral deficiencies, digestive problems, high cholesterol levels, thyroid disorders, and kidney problems. In some cases, it can also aid in the prevention of complex diseases such as cancer.
What age is appropriate for a full body check-up?
A complete body health check-up is necessary for disease detection and determining your levels of fitness. Anyone over the age of 25 should regularly go for a full body check-up. The test can accurately determine illnesses and health complications due to certain lifestyle choices.
 Can I drink water before my tests?
Talk to your physician or laboratory about whether you need to fast before the test. It is usually recommended that you avoid fatty or salty foods prior to the test. Also, try to avoid strenuous exercise, such as lifting weights, on the day of your test. It is critical to remain calm and well-rested in order to pass the health screening tests.
Takeaway
In conclusion, a full body check-up is a comprehensive assessment of an individual's overall health and can help detect potential health problems at an early stage. It is an important diagnostic tool for maintaining good health and preventing or managing chronic conditions. Individuals can gain a better understanding of their health status, identify potential health risks, and take appropriate steps to maintain or improve their health by undergoing a full body check-up. It is important to consult a doctor to determine if a full body check-up is appropriate for you and to determine which tests are necessary based on your individual health needs and risk factors.
Frequently Asked Questions
Fasting is often required before certain tests that are included in a full body check-up. For example, fasting is usually required for tests such as lipid profiles, glucose levels, and liver function tests. It is recommended to check with the laboratory or healthcare provider conducting the check-up to confirm fasting requirements.
A body check-up for a couple is an important step towards maintaining good health and can help identify potential health issues early, allowing for prompt treatment and management.
The cost of a full body check-up for a couple in India can vary depending on several factors, such as the location, the laboratory or healthcare provider conducting the test, and the specific tests included in the check-up. Additionally, insurance coverage may also impact the cost of the check-up. It is important to check with your insurance provider to determine what tests are covered under your plan.

LivLong offers a Basic Full-body Check-Up packages for Rs. 1999, an Advanced Full Body Check Up (Males) package for Rs. 2699, and an Advanced Full Body Check-Up (Couples) package for Rs. 3799. Couples can enjoy the 1+1 benefit on the Advanced Full Body Check-Up for Rs. 4999.
In India, it is not always necessary to have a doctor's prescription to get a full body check-up. Some healthcare providers or laboratories may offer the test without a prescription, while others may require a prescription from a doctor.
A full body check-up is recommended for individuals to assess their overall health and detect potential health problems early. It is suitable for both men and women of all ages but is especially important for those with a family history of health problems, an increased risk, or a symptom.
Authentic Reports
From NABL certified labs across India
Good Health = Happy Customers
I did a diabetes test. Everytime testing, going to lab centers, very difficult. Home sample collection made my life so easier now. Great job LivLong 365. Providing Diabetes tests at home!
My husband had high fever. My son was out of town. He just arranged for his tests. We didn't have to go anywhere. I was worried how would manage alone. My son solved my problem with the help of LivLong 365.
Medically everything costs so much today. Getting such a good price for my thyroid test, it really helps. I don't know how you manage but keep giving such good prices for all your diagnostic tests. Thanks.