Lab Test | Detailed Thyroid Test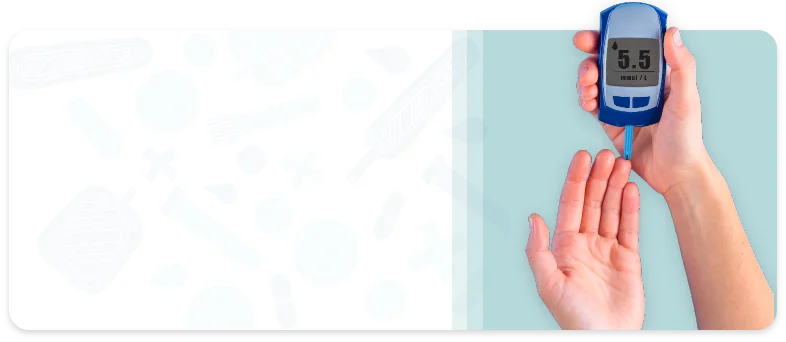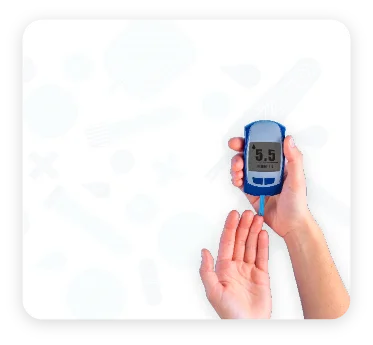 Detailed Thyroid Test
(Inclusive of GST*)
1 Packages included
TRI – IODOTHYRONINE (T3)
THYROXINE (T4)
THYROID STIMULATING HOMONE (TSH)
TRI – IODOTHYRONINE (T3)
THYROXINE (T4)
THYROID STIMULATING HOMONE (TSH)
Specialised Plans
with Doctor consultations, Lab Tests and more
Basic
24/7 Doctor-on-Call Health Package

Consultations with: 24/7 General Physician (5), Nutritionist (2)

Value Added benefits: Personalised Diet Chart, 24/7 Consultation

Lab Tests for: Full Panel Check-up (1)

24/7 General Physician Consultation & Support

Receive Digital Prescriptions

Free Home sample collection for Tests

Reports within 24 hours

Free Doctor Consultation on Reports
Advance
24/7 Doctor-on-Call Unlimited Health Package

Consultations with: 24/7 General Physician (Unlimited), Nutritionist (2)

Value Added benefits: Personalised Diet Chart, 24/7 Consultation

Lab Tests for: Full Panel Check-up (2)

24/7 General Physician Consultation & Support

Receive Digital Prescriptions

Free Home sample collection for Tests

Reports within 24 hours

Free Doctor Consultation on Reports
Detailed Thyroid Test
(Inclusive of GST)
Why Livlong 365 ?
Free home sample collection

Free Doctor consultation on reports

Servicing
19000+ pincodes
About Detailed Thyroid Test
What is a thyroid test?
The thyroid gland, which is in the front of the neck, secretes thyroid hormones (such as, thyroxine [T4] and triiodothyronine [T3]) that help regulate critical bodily functions like metabolism and maintaining body temperature. When doctors notice problems in these or other dependent parameters, they recommend testing the thyroid gland's function. Testing evaluates how well the thyroid gland is working by measuring the amount of thyroid hormones in the bloodstream.
Why do you need a thyroid profile test?
The thyroid blood test is used to assess thyroid gland function. If the thyroid gland is malfunctioning, a person can either have hypothyroidism (an underactive thyroid) or hyperthyroidism (an overactive thyroid). The panel can help in the diagnosis of disrupted thyroid function and thyroid disorders by measuring thyroid hormone levels in the blood.
A thyroid panel may also be used to monitor hyperthyroidism treatment, and evaluate those getting thyroid hormone replacement therapy. Depending on the test result, the medication dosage can then be altered or stopped altogether.
Testing involves taking a blood sample from a vein in your arm to test the amount of:
TSH (Thyroid-stimulating hormone)

T4

T3

Free T3 and T4
How do you interpret thyroid test results?
The volume of each thyroid hormone in your bloodstream will be listed in your results. Test reports usually specify the standard reference ranges, and whether your hormone levels are within the normal range or not.
The thyroid hormone reference ranges vary depending on your health status, age, and the laboratory performing the testing. The following are the reference ranges established by the American Board of Internal Medicine for each component of the thyroid test:
TSH (Thyroid-stimulating hormone): ranges from 0.5 to 4 mIU/L

Free T4: ranges from 0.8 to 1.8 ng/dL

T3 total: ranges from 80 to 180 ng/dL
What happens during a thyroid test?
A blood sample for the thyroid test will be taken by a medical professional in a doctor's office or lab by putting a needle into a vein in the arm. They may apply a tourniquet around your upper arm, and then clean the needle puncture area properly before drawing blood. After the blood draw, the lab technician should apply a cotton swab or bandage stop the bleeding.
Frequently Asked Questions
The reference ranges for each component of the thyroid test are as follows:
TSH blood test levels are 0.5 to 4 mIU/L
Free T4 blood test levels are 0.8 to 1.8 ng/dL
T3 total blood test levels are 80 to 180 ng/dL
The TSH level test is a primary indicator of thyroid disease because the levels of T3 and T4 are dependent on it. High TSH levels are associated with low T3 and T4 levels, which means you probably have hypothyroidism. On the other hand, low TSH levels mean high T3 and T4 levels, indicating that you may have hyperthyroidism.
The thyroid test can be performed at any time of day, but you should avoid fasting on the same day.
There are no special precautions, such as fasting, required for a thyroid blood test. However, you can ask your doctor or lab executive if you need to prepare before the test. It is recommended to not stop your medications unless advised.
The three main thyroid tests used to evaluate thyroid function are:
TSH blood test levels are 0.5 to 4 mIU/L
Free T4 blood test levels are 0.8 to 1.8 ng/dL
T3 total blood test levels are 80 to 180 ng/dL
Sometimes a thyroid antibody test may also be recommended along with these three main tests.
In India, thyroid test cost varies depending on the city, physician, laboratory, and laboratory location. LivLong offers a detailed thyroid test for T3, T4, and TSH priced at Rs. 399. Enjoy free home sample collection along with test results within 24 hours. Our customers also get a free doctor's consultation on reports.
Authentic Reports
From NABL certified labs across India
Good Health = Happy Customers
I did a diabetes test. Everytime testing, going to lab centers, very difficult. Home sample collection made my life so easier now. Great job LivLong 365. Providing Diabetes tests at home!
My husband had high fever. My son was out of town. He just arranged for his tests. We didn't have to go anywhere. I was worried how would manage alone. My son solved my problem with the help of LivLong 365.
Medically everything costs so much today. Getting such a good price for my thyroid test, it really helps. I don't know how you manage but keep giving such good prices for all your diagnostic tests. Thanks.