Lab Test | Fever Test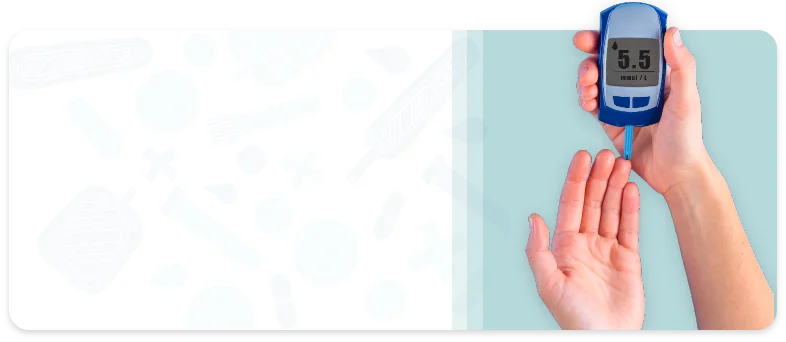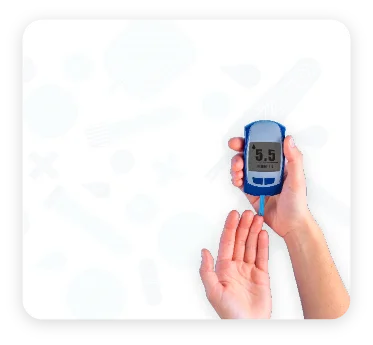 Fever Test
(Inclusive of GST*)
7 Packages included
HAEMOGLOBIN
TOTAL LEUCOCYTE COUNT
PCV
RBC
MEAN CORP VOLUME (MCV)
MEAN CORP HB (MCH)
MEAN CORP HB CONC (MCHC)
RDW – CV
RDW – SD
RDWI
GREEN & KING INDEX
NEUTROPHILS
LYMPHOCYTES
MONOCYTES
EOSIONOPHILS
BASOPHILS
ABSOLUTE NEUTROPHIL COUNT
ABSOLUTE LYMPHOCYTE COUNT
ABSOLUTE MONOCYTE COUNT
ABSOLUTE EOSINOPHIL COUNT
ABSOLUTE BASOPHIL COUNT
PLATELET COUNT (PLT)
MPV
ESR
HAEMOGLOBIN
TOTAL LEUCOCYTE COUNT
PCV
RBC
MEAN CORP VOLUME (MCV)
MEAN CORP HB (MCH)
MEAN CORP HB CONC (MCHC)
RDW – CV
RDW – SD
RDWI
GREEN & KING INDEX
NEUTROPHILS
LYMPHOCYTES
MONOCYTES
EOSIONOPHILS
BASOPHILS
ABSOLUTE NEUTROPHIL COUNT
ABSOLUTE LYMPHOCYTE COUNT
ABSOLUTE MONOCYTE COUNT
ABSOLUTE EOSINOPHIL COUNT
ABSOLUTE BASOPHIL COUNT
PLATELET COUNT (PLT)
MPV
ESR
Specialised Plans
with Doctor consultations, Lab Tests and more
Advance
Total Heart-Health Package

Consultations with: Cardiologist (2), 24/7 General Physician (4), Nutritionist (2)

Value Added benefits: Personalised Diet Chart

Lab Tests for: ECG (2 ), Cardiac Markers including Lipid Profile (2), Full Panel Check up (1)

24/7 General Physician Consultation & Support

Receive Digital Prescriptions

Free Home sample collection for Tests

Reports within 24 hours

Free Doctor Consultation on Reports
Fever Test
(Inclusive of GST)
Why Livlong 365 ?
Free home sample collection

Free Doctor consultation on reports

Servicing
19000+ pincodes
About Fever Test
The monsoon season brings rain showers and relief from the stifling heat, but it also brings a flurry of illnesses. Because our bodies take time to adapt to changes in climate, we become vulnerable to monsoon diseases, which is why we must be more vigilant. Malaria, dengue fever, typhoid fever, and many other water-borne infectious diseases are common and, at times, fatal. As a result, screening check-ups, such as fever profile tests, are essential in the monsoon.
What is a Fever?
A fever is a temporary increase in the body's temperature caused by the hypothalamus, the part of the brain that regulates body temperature. When the immune system recognises an infection within the body, it begins a series of complex processes that generate more heat and activate the hypothalamus, causing the body's temperature to rise.
Without the assistance of a medical professional, determining the source of the fever could be difficult. As a result, when fever is associated with any of the following symptoms, it is advised to seek medical attention right away:
Constant headache
A temperature of more than 104 degrees Fahrenheit
Vomiting and nausea
Constipation
Diarrhoea
Appetite loss
Urine abnormalities: low output or dark urine
Body ache
A physician may order blood tests for fever to find out the root cause of the fever.
What is a Fever Profile Test?
A fever profile test comprises a series of blood tests used to determine the underlying cause of fever and other related signs. It primarily consists of urine and blood tests aimed at diagnosing and determining the underpinning reasons for health problems including dengue, malaria, typhoid, and urinary tract infections (UTIs). Many symptoms, which include dizziness, headache, chills, and sore eyes in addition to a fever, indicate the need for a fever test. The results assist doctors in recommending the most appropriate treatment, medication, and action plans to prevent the disease from progressing.
The following tests are included in the fever profile blood test list:
Typhoid IGM test
Peripheral smear malaria test
Dengue antigen test
Complete hemogram (CBC and ESR)
Routine urine testing
Blood culture
This is not an exhaustive list. The fever profile may contain more screening tests as well.
Frequently Asked Questions
There is no one specific test for fever. Your physician may order a fever profile based on various factors, including your symptoms and medical history. The aforementioned fever profile blood tests are some of the basic inclusions of the tests.
A fever profile test consists of multiple tests. The list below is a list of laboratory tests that are commonly a part of a fever panel. Some inclusions of the fever profile are CBC with ESR, dengue virus antigen, typhoid test, peripheral smear for malaria, and urine examination.
Yes, before ordering any viral fever tests, your doctor will generally evaluate your symptoms and medical history. To investigate any abnormalities, saliva, blood, or urine tests may be ordered. White blood cells (WBC) are studied in depth. Depending on the symptoms of the viral illness, you may also need a swab test and a specific antibody or antigen test.
The fever profile test examines the most common causes of infection. It is a set of tests that looks for potentially fatal diseases such as malaria, urinary tract infections, and typhoid in order to identify them early and begin treatment before they progress to the next stage.
Authentic Reports
From NABL certified labs across India
Good Health = Happy Customers
I did a diabetes test. Everytime testing, going to lab centers, very difficult. Home sample collection made my life so easier now. Great job LivLong 365. Providing Diabetes tests at home!
My husband had high fever. My son was out of town. He just arranged for his tests. We didn't have to go anywhere. I was worried how would manage alone. My son solved my problem with the help of LivLong 365.
Medically everything costs so much today. Getting such a good price for my thyroid test, it really helps. I don't know how you manage but keep giving such good prices for all your diagnostic tests. Thanks.