Lab Test | Advance Full Body Test (for Male)
Advance Full Body Test (for Male)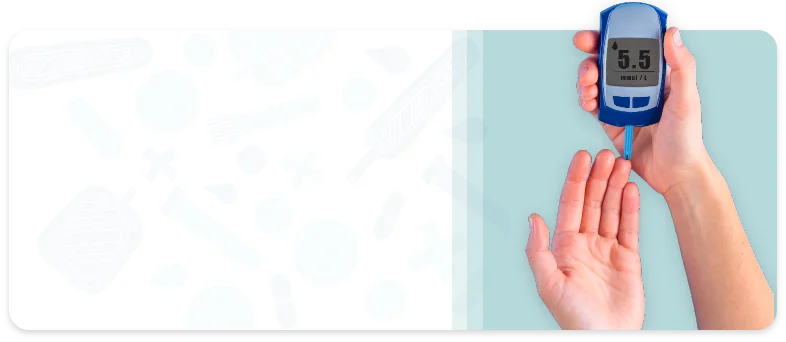 Advance Full Body Test (for Male)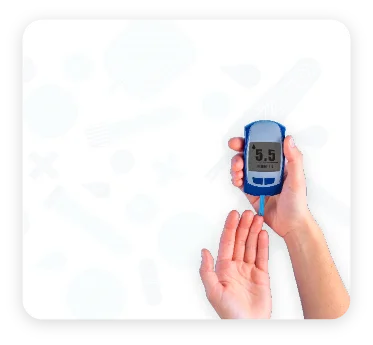 Advance Full Body Test (for Male)
(Inclusive of GST*)
13 Packages included
HAEMOGLOBIN
TOTAL LEUCOCYTE COUNT
PCV
RBC
MEAN CORP VOLUME (MCV)
MEAN CORP HB (MCH)
MEAN CORP HB CONC (MCHC)
RDW – CV
RDW – SD
RDWI
GREEN & KING INDEX
NEUTROPHILS
LYMPHOCYTES
MONOCYTES
EOSIONOPHILS
BASOPHILS
ABSOLUTE NEUTROPHIL COUNT
ABSOLUTE LYMPHOCYTE COUNT
ABSOLUTE MONOCYTE COUNT
ABSOLUTE EOSINOPHIL COUNT
ABSOLUTE BASOPHIL COUNT
PLATELET COUNT (PLT)
MPV
ESR
SERUM ALB/GLOBULIN RATIO
ALKALINE PHOSPHATASE
BILIRUBIN -DIRECT
BILIRUBIN (INDIRECT)
BILIRUBIN - TOTAL
GAMMA GLUTAMYL TRANSFERASE (GGT)
PROTEIN - TOTAL
ALBUMIN - SERUM
SERUM GLOBULIN
ASPARTATE AMINOTRANSFERASE (SGOT )
ALANINE TRANSAMINASE (SGPT)
Creatinine
Urea
BUN
Potassium
Sodium
Chlorides
Proteins- Total
Albumin
Globulin
A/G Ratio
TOTAL CHOLESTEROL
SERUM TRIGLYCERIDES
SERUM HDL CHOLESTEROL
SERUM LDL CHOLESTEROL
SERUM VLDL CHOLESTEROL
TOTAL CHOL / HDL CHOLESTEROL RATIO
LDL / HDL CHOLESTEROL RATIO
HDL / LDL CHOLESTEROL RATIO
Iron
TIBC
Transferritin Saturation
VOLUME
COLOUR
APPEARANCE
SPECIFIC GRAVITY
PH
URINARY PROTEIN
URINARY GLUCOSE
URINE KETONE
URINARY BILIRUBIN
UROBILINOGEN
BILE SALT
BILE PIGMET
URINE BLOOD
NITRITE
MICROALBUMIN
MUCUS
RED BLOOD CELLS
URINARY LEUCOCYTES (PUS CELLS)
EPITHELIAL CELLS
CASTS
CRYSTALS
BACTERIA
YEAST
PARASITE
HAEMOGLOBIN
TOTAL LEUCOCYTE COUNT
PCV
RBC
MEAN CORP VOLUME (MCV)
MEAN CORP HB (MCH)
MEAN CORP HB CONC (MCHC)
RDW – CV
RDW – SD
RDWI
GREEN & KING INDEX
NEUTROPHILS
LYMPHOCYTES
MONOCYTES
EOSIONOPHILS
BASOPHILS
ABSOLUTE NEUTROPHIL COUNT
ABSOLUTE LYMPHOCYTE COUNT
ABSOLUTE MONOCYTE COUNT
ABSOLUTE EOSINOPHIL COUNT
ABSOLUTE BASOPHIL COUNT
PLATELET COUNT (PLT)
MPV
ESR
SERUM ALB/GLOBULIN RATIO
ALKALINE PHOSPHATASE
BILIRUBIN -DIRECT
BILIRUBIN (INDIRECT)
BILIRUBIN - TOTAL
GAMMA GLUTAMYL TRANSFERASE (GGT)
PROTEIN - TOTAL
ALBUMIN - SERUM
SERUM GLOBULIN
ASPARTATE AMINOTRANSFERASE (SGOT )
ALANINE TRANSAMINASE (SGPT)
Creatinine
Urea
BUN
Potassium
Sodium
Chlorides
Proteins- Total
Albumin
Globulin
A/G Ratio
TOTAL CHOLESTEROL
SERUM TRIGLYCERIDES
SERUM HDL CHOLESTEROL
SERUM LDL CHOLESTEROL
SERUM VLDL CHOLESTEROL
TOTAL CHOL / HDL CHOLESTEROL RATIO
LDL / HDL CHOLESTEROL RATIO
HDL / LDL CHOLESTEROL RATIO
Iron
TIBC
Transferritin Saturation
VOLUME
COLOUR
APPEARANCE
SPECIFIC GRAVITY
PH
URINARY PROTEIN
URINARY GLUCOSE
URINE KETONE
URINARY BILIRUBIN
UROBILINOGEN
BILE SALT
BILE PIGMET
URINE BLOOD
NITRITE
MICROALBUMIN
MUCUS
RED BLOOD CELLS
URINARY LEUCOCYTES (PUS CELLS)
EPITHELIAL CELLS
CASTS
CRYSTALS
BACTERIA
YEAST
PARASITE
Specialised Plans
with Doctor consultations, Lab Tests and more
Basic
24/7 Doctor-on-Call Health Package

Consultations with: 24/7 General Physician (5), Nutritionist (2)

Value Added benefits: Personalised Diet Chart, 24/7 Consultation

Lab Tests for: Full Body Check-up (1)

24/7 General Physician Consultation & Support

Receive Digital Prescriptions

Free Home sample collection for Tests

Reports within 24 hours

Free Doctor Consultation on Reports
Advanced
24/7 Doctor-on-Call Unlimited Health Package

Consultations with: 24/7 General Physician (Unlimited), Nutritionist (2)

Value Added benefits: Personalised Diet Chart, 24/7 Consultation

Lab Tests for: Full Body Check-up (2)

24/7 General Physician Consultation & Support

Receive Digital Prescriptions

Free Home sample collection for Tests

Reports within 24 hours

Free Doctor Consultation on Reports
Advance Full Body Test (for Male)
(Inclusive of GST)
Why Livlong 365 ?
Free home sample collection

Free Doctor consultation on reports

Servicing
19000+ pincodes
About Advance Full Body Test (for Male)
Your body generally signals the brain in some way or the other if something is not right with your health. However, sometimes, these signals may be too subtle to notice them. Thus, it is best to take preventive measures by investing in an advanced full body check-up for males to avoid developing diseases.
Since men and women have different physiologies, a dedicated full body check-up for males is the right choice for men. Additionally, leading a healthy lifestyle can translate to many benefits including huge savings on medical bills.
What does an annual full body check-up mean?
People usually go to general physicians when they fall sick or for a regular consultation to manage chronic conditions like diabetes. Visiting a doctor for a check-up is important for treating and managing a disease and for recovering. However, prevention is better than cure. An advanced full body check-up for men can effectively uncover any potential threats to a person's health.
As you grow old, the efficiency of your immune system reduces along with the regenerative powers of the body. You may notice that your body is healing slowly with age. Thus, it can be game changer if a disease is diagnosed early on; this is especially true for life-threatening diseases such as cancer and cardiovascular ailments.
A regular visit to the doctor may not be adequate to map out your current health status as accurately as a full men's health check-up does.
Benefits of taking a full body check-up for males
Health check-ups for men can be profoundly beneficial in assessing a person's overall health. Here are some of the advantages of a full body check-up for men.
Early diagnosis

A thorough check-up once a year is enough to diagnose any brooding diseases. Most health insurance companies also provide free health check-ups on an annual basis.

Manage or delay genetic conditions

Some genetic conditions are inevitable. Regular full body check-ups for men can help manage the condition or delay its onset with the help of biometric data observed in the tests.

Save money in the long run

By taking an annual full body check-up, you can prevent a disease from developing into a severe condition and avoid paying hefty medical bills later on.

Increase longitivtiy

Getting a reminder to focus on your health can trigger a series of behavioural changes that can lead to a healthy life. In addition, it can help people optimise their daily choices to ensure healthy living.
What tests does an annual full body check-up include?
Usually, an advanced full body check-up for men includes about 75 tests in total; but different pathology labs/hospitals offer different packages. Listed here are some of the tests included a men's health full body check-up package:
1. Gout test:
To test the levels of Uric acid in your body; high levels may lead to gout:
2. Inflammation marker:
To detect any inflammations in the body due to conditions like infections, lupus, and certain types of cancers
3. Liver tests:
To check your liver's health and ensure it is functioning properly
4. Urine tests:
For complete urine analysis to check if you have any kidney or urinary tract infection, hypertension, diabetes, or fatty liver disease
5. Vitamin tests:
To find out whether you have vitamin D and B12 deficiency/toxicity as these vitamins play an important role in the body's functioning
6. Blood count tests:
To identify any blood disorder or infection going on in your body
7. Diabetes tests:
To monitor your blood glucose levels and identify if you are at a risk of developing diabetes
8. Iron tests:
To assess the amount of iron circulating and stored in the body; lower levels of iron can lead to anaemia and the condition might go undetected
9. Kidney tests:
To check whether your kidneys are functioning properly and detect any abnormalities
10. Thyroid tests (including TSH, T3 and T4 blood test):
To ensure the thyroid glands are producing the right amount of hormones
11. Electrolyte tests:
To check your body has a balanced amount of salts and other minerals in your body
12. Lipid tests:
To check the levels of different fats in your blood and avoid risks of stroke and cardiovascular diseases
Men's health full body check
It is important to make healthy living your priority in the early stage of life, as it gives you the opportunity to delay or avoid certain medical conditions. Going for regular health check-ups is one way to monitor your health over time. However, in some cases the symptoms are too subtle to detect in a regular check-up. Thus, every once in a while, you can go for an advanced full body check-up to thoroughly examine your current health.
Those who are living a healthy lifestyle—eating a balanced meal, working out regularly, not smoking, drinking alcohol in moderation—are less likely to develop lifestyle diseases. However, people also tend to ignore the signals of their body and discover they have a disease at a later stage. Taking an advanced full body check-up reduces the likelihood of sudden medical emergencies.
Frequently Asked Questions
Yes, some of the tests in an advanced full body check-up require you to fast for about 8–12 hours to produce accurate results. In order to avoid the discomfort of fasting for about 10 hours, you are recommended to book an early morning slot.
Regular visits to your doctor might not be able to highlight the subtle symptoms of certain diseases like cancer. Generally, people don't know they have a severe illness until the diseases has progressed a lot. To avoid this situation, it is better to go for an advanced full body check-up.
You can book an advance full body check-up for males at about INR 2700 if you book through LivLong. Otherwise, you can check with your health insurance provider to see if they provide the facility at one of their network hospitals as an added benefit of the insurance plan.
No, you do not need a doctor's prescription if you are taking this test for preventive measures. However, the pathology lab will recommend you to consult a doctor if they see any abnormality in your report. You can simply book an appointment with a pathology lab online or directly to get the tests done; you can also avail some discounts if you book the package through websites such as LivLong.
Men who are above 18 years should consider taking this test once a year or once every few years to keep a tab on their health. This can go a long way in ensuring you live a healthy life.
Authentic Reports
From NABL certified labs across India
Good Health = Happy Customers
I did a diabetes test. Everytime testing, going to lab centers, very difficult. Home sample collection made my life so easier now. Great job LivLong 365. Providing Diabetes tests at home!
My husband had high fever. My son was out of town. He just arranged for his tests. We didn't have to go anywhere. I was worried how would manage alone. My son solved my problem with the help of LivLong 365.
Medically everything costs so much today. Getting such a good price for my thyroid test, it really helps. I don't know how you manage but keep giving such good prices for all your diagnostic tests. Thanks.