Lab Test | PCOD Test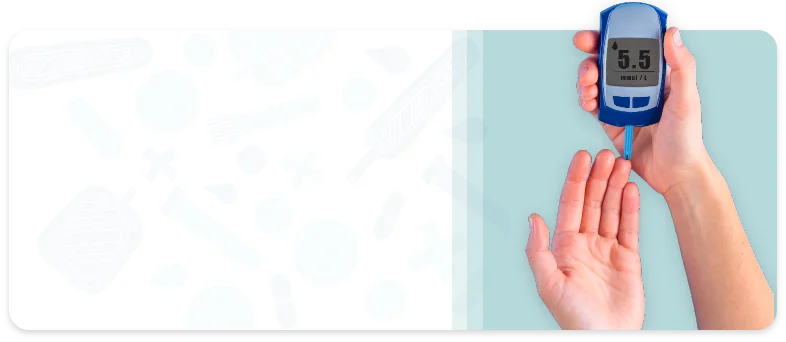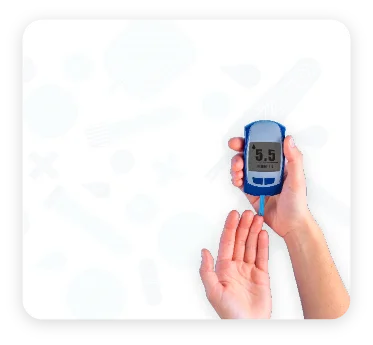 PCOD Test
(Inclusive of GST*)
7 Packages included
HAEMOGLOBIN
TOTAL LEUCOCYTE COUNT
PCV
RBC
MEAN CORP VOLUME (MCV)
MEAN CORP HB (MCH)
MEAN CORP HB CONC (MCHC)
RDW – CV
RDW – SD
RDWI
GREEN & KING INDEX
NEUTROPHILS
LYMPHOCYTES
MONOCYTES
EOSIONOPHILS
BASOPHILS
ABSOLUTE NEUTROPHIL COUNT
ABSOLUTE LYMPHOCYTE COUNT
ABSOLUTE MONOCYTE COUNT
ABSOLUTE EOSINOPHIL COUNT
ABSOLUTE BASOPHIL COUNT
PLATELET COUNT (PLT)
MPV
ESR
HAEMOGLOBIN
TOTAL LEUCOCYTE COUNT
PCV
RBC
MEAN CORP VOLUME (MCV)
MEAN CORP HB (MCH)
MEAN CORP HB CONC (MCHC)
RDW – CV
RDW – SD
RDWI
GREEN & KING INDEX
NEUTROPHILS
LYMPHOCYTES
MONOCYTES
EOSIONOPHILS
BASOPHILS
ABSOLUTE NEUTROPHIL COUNT
ABSOLUTE LYMPHOCYTE COUNT
ABSOLUTE MONOCYTE COUNT
ABSOLUTE EOSINOPHIL COUNT
ABSOLUTE BASOPHIL COUNT
PLATELET COUNT (PLT)
MPV
ESR
Specialised Plans
with Doctor consultations, Lab Tests and more

Consultations with: Diabetologist (1), General Physician (1), Nutritionist (2)

Value Added benefits: Personalised Diet Chart

Lab Tests for: HbA1c, FBS, RBS, RFT, Post Prandial Sugar, Lipid Profile (1)

24/7 General Physician Consultation & Support

Receive Digital Prescriptions

Free Home sample collection for Tests

Reports within 24 hours

Free Doctor Consultation on Reports
Advance
24/7 Doctor-on-Call Unlimited Health Package

Consultations with: 24/7 General Physician (Unlimited), Nutritionist (2)

Value Added benefits: Personalised Diet Chart, 24/7 Consultation

Lab Tests for: Full Panel Check-up (2)

24/7 General Physician Consultation & Support

Receive Digital Prescriptions

Free Home sample collection for Tests

Reports within 24 hours

Free Doctor Consultation on Reports
Advance
Diabetology Plus Package (For any 2 family members)

Consultations with: Diabetologist (4), General Physician (4), Nutritionist (8)

Value Added benefits: Personalised Diet Charts

Lab Tests for: HbA1c (4), FBS/RBS (4 ); GTT (2) – LFT (2), RFT (2), Lipid Profile (2)

24/7 General Physician Consultation & Support

Receive Digital Prescriptions

Free Home sample collection for Tests

Reports within 24 hours

Free Doctor Consultation on Reports
PCOD Test
(Inclusive of GST)
Why Livlong 365 ?
Free home sample collection

Free Doctor consultation on reports

Servicing
19000+ pincodes
Authentic Reports
From NABL certified labs across India
Good Health = Happy Customers
I did a diabetes test. Everytime testing, going to lab centers, very difficult. Home sample collection made my life so easier now. Great job LivLong 365. Providing Diabetes tests at home!
My husband had high fever. My son was out of town. He just arranged for his tests. We didn't have to go anywhere. I was worried how would manage alone. My son solved my problem with the help of LivLong 365.
Medically everything costs so much today. Getting such a good price for my thyroid test, it really helps. I don't know how you manage but keep giving such good prices for all your diagnostic tests. Thanks.