Being a health-conscious person, you must have adequate knowledge regarding what to eat for good health. Then, you must incorporate spinach juice into your daily diet regime to maintain your health in an utmost way. Spinach is a leafy green vegetable that is rich in nutrients. In Indian cuisine, spinach is used in soups and gravies. But you must be astonished to know that raw spinach juice is a powerhouse of nutrition and offers an array of health benefits. The minerals in spinach are alkaline and thus, maintain your body's pH balance. Moreover, spinach is an ideal protein source for vegans and vegetarians.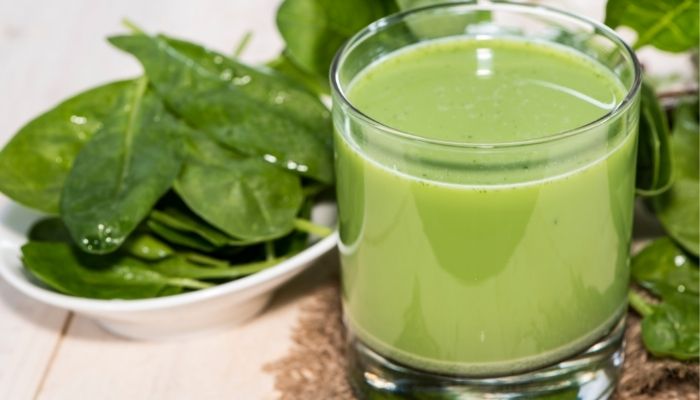 In this article, we are going to unearth some more spinach juice benefits.
1. High in Antioxidants
The benefits of drinking spinach juice can't be explained in one word. Spinach juice will improve your antioxidant intake. Antioxidants neutralize free radicals and thus give you protection against oxidative stress and chronic illnesses. Spinach is an excellent source of antioxidants, including lutein, beta carotene, coumaric acid, violaxanthin, and ferulic acid. A small study was conducted on 8 people for 16 days and they consumed 8 ounces (240 mL) of spinach daily. After the study, it was revealed that spinach juice prevented oxidative damage to DNA. Animal studies have also established that spinach juice prevents oxidative stress.
2. Beneficial for your Eye's Health
Spinach juice is flooded with antioxidants lutein and zeaxanthin which are required for maintaining healthy vision. Some studies have also purported that these compounds are effective in protecting against age-related macular degeneration (an eye condition that can cause progressive vision loss).
Several experts also believe that an increased intake of zeaxanthin and lutein will minimize the risks of cataracts ( an eye condition that clouds and blurs the lens of your eye)
Moreover, spinach juice is richer in vitamin A which is necessary for your eye's health. You may experience dry eyes or night blindness due to the deficiency of this vitamin. Though the exact amount depends on how much water you use and whether you add other ingredients, juicing 4 cups (120 grams) of raw spinach generally gives about 1 cup (240 mL) of juice. You will get nearly 63% of the Daily Value (DV) for vitamin A from this amount of juice.
3. May lessen the Growth of Cancerous Cells
Several studies have claimed that spinach juice is beneficial in controlling the growth of cancer cells. But more studies are required to establish this claim. In a 2-week study in mice, spinach juice minimized the volume of colon cancer tumors by 56%.
Another mouse study revealed that monogalactosyl diacylglycerol (MGDG) (a compound that is found in spinach) improved the effects of radiation therapy in destroying pancreatic cancer cells.
Several human studies have also claimed that eating more leafy vegetables like spinach will reduce the risk of lung, prostate, breast, and colorectal cancer. But more human research is needed to establish this fact.
4. May Lessen Blood Pressure
Spinach contains nitrates and potassium that will elevate your blood flow and lessen blood pressure. Since spinach is rich in nitrates ( a compound that dilates your blood vessels), hence it minimizes your blood pressure. Drinking spinach juice will improve blood flow
A study was conducted on 27 people who consumed spinach soup daily and at the end of the study, it was found that spinach juice decreased blood pressure and arterial stiffness as compared to those who didn't consume soup.
Another study was performed on 30 people who ate nitrate-rich spinach for a certain period and it has revealed that their systolic blood pressure decreased significantly after the study. One cup (240 mL) of spinach juice offers nearly 14% of the DV for potassium (a mineral that controls blood pressure by regulating the amount of sodium excreted through your urine).
5. Prevents Anemia
Spinach is loaded with higher nutrients thus it produces red blood cells. Spinach is also an astonishing blood builder. By drinking spinach juice, you will never become susceptible to anemia.
6. Relieves Rheumatoid Arthritis
Spinach is alkaline by nature. Thus, it helps you to overcome rheumatoid arthritis.
7. Cure for Gum Bleeding
Spinach juice contains a higher level of vitamin C, thus, it cures gum bleeding and other gum problems.
8. Combats Stomach Problems
Spinach is a good source of fiber, thus it prevents various stomach problems like colitis, ulcers, poor digestion, and constipation.
9. Good for Pregnant Women
Spinach offers essential nutrients needed by the developing fetus. It also uplifts the amount and quality of milk production of a mother.
10. Spinach Juice Benefits for Skin
As you grow older, your skin loses its glow, shine, and softness. Spinach is loaded with antioxidants, and thus, it makes your skin hydrated and supple. By drinking a glass of spinach juice, you can combat the signs of aging. The vitamins and antioxidants in spinach make your skin healthy and radiant. 
Vitamin A controls skin cell generation and produces mucus to protect against several infections and diseases. Spinach is a good source of vitamin A. Vitamin C in spinach protects your skin against oxidative stress, inflammation, and skin damage. Moreover, vitamin C boosts collagen production (a protein that heals your wound and maintains skin elasticity)
11. Makes your Hair Lustrous and Healthy
Spinach is rich in vitamin B complex that promotes hair growth and makes your hair lustrous. Vitamin C in spinach improves iron absorption and prevents hair loss related to iron deficiency.
Now, you have adequate knowledge regarding palak juice's benefits to your health and skin.
The Bottom Line
Spinach juice offers an array of health benefits, as it contains antioxidants and other essential components. But it is low in fiber, protein, and healthy fats, thus, it can't be a meal replacement. To enjoy the maximum benefits, you can drink spinach along with other food items.