Looking for an all-in-one solution for your skin that keeps it hydrated, nourished, free of acne, and white too? Then, how about using coconut oil for the skin? Extracted from raw coconut, this good smelling oil is the number one choice of many beauty experts. Vitamin E, minerals, antioxidants, saturated fats, and a pleasant smell, you name it and have it all mixed in coconut oil that makes it a natural blessing for your skin.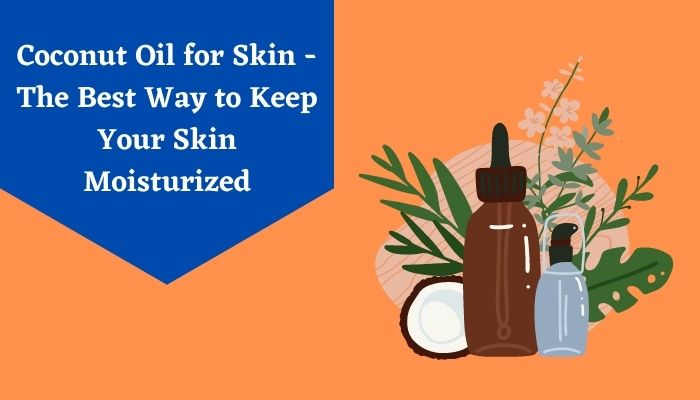 As a child, I grew up listening to various benefits of applying coconut oil on face overnight from my granny. I never trusted her when I was small, but when I applied this oil on my skin and left it overnight for a few days in a row, the result made me repent that why didn't I try it earlier?
Being a happy user of coconut oil for skin, I am going to share with you all the marvellous reasons for which you must give it a try on your skin! So, read on to understand various coconut oil benefits for the skin.
Coconut Oil Benefits for Skin
Coconut oil boasts of an interesting combination of natural ingredients that work wonders not just for skin, but hair too. Various clinical researches have made it clear that coconut oil is completely safe to be used on the skin to get so many advantages. 
Have a look at the reasons for which we highly recommend coconut oil for skin:
1. Moisturizes the Skin: Nothing can be better than using pure coconut oil for skin hydration. Yes, when talking about how coconut oil benefits for skin, we can undoubtedly say its prime benefit is in skin moisturization. If your face is not acne-prone you can even apply it on your face in winters to keep it supple and nourished all day long without using any cold cream. 
2. Perfect Makeup Remover: If you are in a habit of buying makeup removers from the market, then we suggest you stop it and try using coconut oil as a makeup remover. Trust us, you will repent spending so much on artificial products to remove your makeup because coconut oil has the power not just to break down even waterproof makeup formulas in a gentle way. It cleanses your skin by removing dirt, oil, and all the makeup residue.
3. Use as Lip Balm: If throughout the winters you struggle with the problem of cracked lips, then try coconut oil as a lip balm. You can make your DIY lip balm using coconut oil along with another set of ingredients like beeswax, and cocoa butter. You will say goodbye to your flaky and cracked lips using this naturally made lip balm where the main ingredient is coconut oil. 
4. Repairs Wrinkles and Fine Lines: Ever thought, why do many cosmetic products use coconut oil? This is because this oil is packed with all those nutrients that our skin needs for nourishment. Rich in antioxidants, coconut oil is a miracle for ageing skin. It helps prevent fine lines and wrinkles as you turn old. 
5. Skin Whitening: Use coconut oil for skin whitening and you will discard all your skin whitening creams. All you need to do is take some drops of coconut oil and rub them between your palms until it becomes a bit warm and then apply it evenly on your face with a gentle massage. Do so until all the oil is absorbed by the skin and if you wish you may leave it overnight. The benefits of applying coconut oil on the face overnight will astonish you in the morning when your skin will be whiter and more radiant.
6. Prevents Stretch Marks: Women often like to flaunt their baby bump but they shy away from the stretch marks left after delivery. Stretch marks are a common problem suffered by all women who have undergone motherhood. On a positive note, they remind you of your journey as a mother, but they aren't good to look at. So, if you want to get rid of stretch marks, apply warm coconut oil regularly and see them vanish gradually. 
7. Reduces Skin Inflammation: These days, even dermatologists are openly recommending coconut oil for skin disorders like eczema, psoriasis, and contact dermatitis. The main reason for all such skin disorders is inflammation, and coconut oil has tremendous anti-inflammatory properties. If applied to the affected area, it can stabilize the free radicals in the body to neutralize the reactive atoms contributing to inflammation. As a result, it soothes skin inflammation.
8. Prevents Body Odors: Use coconut oil for skin and you will forget to use any artificial deodorant to get rid of the body odour. Yes, this is because this miraculous oil leaves a fresh smell on your skin, and it doesn't smell bad at all. As a result, you need not buy any deodorant from the market to deal with your body odour issue.
Is Coconut Oil Safe to Apply on Face?
Chances are that after reading all the above-mentioned coconut benefits for skin, you might be eager to try it on your skin too. But, are you pondering whether or not to use this oil on your face? If that is your concern, let us inform you that this oil is extremely effective for acne-prone skin due to its high levels of linoleic acid, which is a skin-soothing ingredient. Besides, it also contains antimicrobial properties that help prevent acne-causing bacteria on your face. So, now whether or not to use coconut oil on the face is your call! Decide for yourself but let us assure you that it is completely safe to be used on your face like on any other body part.
Conclusion
Nature has bestowed upon its goodness in the form of various foods. Coconut is one such miracle food that can be used in an oil form not just for its edible properties but also for its skin-nourishment properties. Use coconut oil for skin whitening or for preventing acne, the results will prove how beneficial this oil is for your skin. Make sure to apply it on your skin only after consulting your dermatologist, in case you have any skin-related disease.