A serum albumin test is a type of blood test that weighs the amount of albumin in the blood. This test is an integral part of the standard panel of the liver test. Your doctor primarily refers to this test to detect the progress or lack of it.  Due to surgery, burn or open wound, you may have a lower level of serum albumin. Abnormal albumin serum levels may also indicate that your liver and kidneys are not working properly.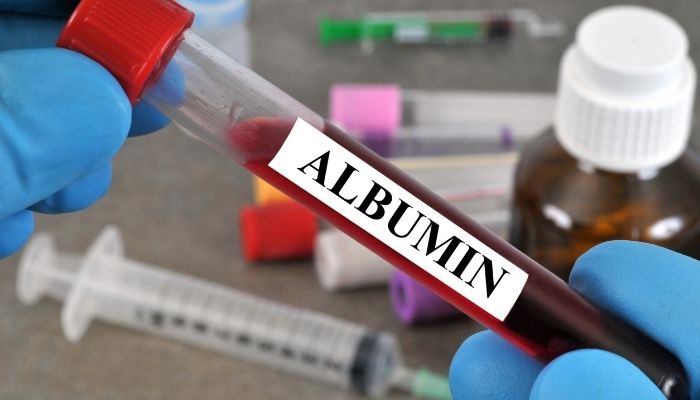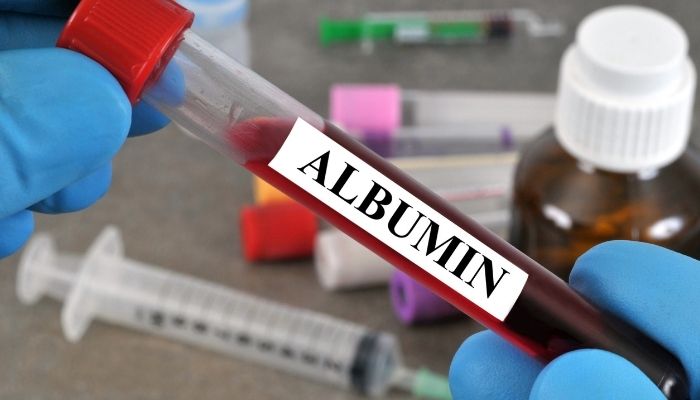 The cost of the serum albumin test is Rs. 100-Rs.150. Based on your area, the price may vary. Please check the price of the serum albumin test in Delhi/NCR, your nearby centers and other details.
Test Summary
| | |
| --- | --- |
| Also known as | Serum albumin, blood albumin, BSA |
| Test Type                                            | Blood |
| Serum albumin test includes | Detects how your liver is working                       |
| Preparation | No special preparation is required |
| Reporting | Within 24hrs |
| Test price | The cost of the serum albumin test is Rs. 100-Rs.150. Based on your area, the price may vary. |
| Also included in | Health Insurance Plans |
| Related tests | bilirubin, creatinine, blood urea nitrogen, prealbumin |
Albumin is one of the most copious proteins that are commonly found in the blood. As a part of its normal functioning, the liver produces albumin. Albumin is responsible for the fluid balance in the body. This averts the blood vessels from leaking. Albumin plays a crucial part in repairing tissue and supports your body to grow while transporting prerequisite hormones and nutrients around.
Why Is This Test Performed?
A wholesome liver converts the protein into albumin. When your liver is damaged, this process lessens and there could be a significant drop in albumin levels.
Sometimes, your doctor may recommend this test as part of a metabolic panel. A metabolic panel comprises several tests including,
 Creatinine

 Prealbumin

 Blood urea nitrogen

 

Albumin
Your doctor will also prescribe this test if you are suffering from the symptoms of liver disease or other liver problems. He may advise you to go for the test if you are observing one or more of the following symptoms.
Sudden weight loss

Inflammation around the stomach, eyes, or legs

Yellow skin and eyes called jaundice

Excessive fatigue
Your doctor will refer to this test to monitor existing conditions, including kidney disease or chronic pancreatitis. This test helps the doctor to evaluate how an ongoing treatment is progressing.
Preparation for the Test
To perform this test, you may not need any special preparations. But some medicines may hamper the results of the test. Medications that you need to stop or reduce the dosage of before this test are
Anabolic steroids

Insulin

Growth hormones
But before stopping or reducing the dosage of these medicines, you should inform your doctor.  If you are taking any other medications, inform your doctor about the same.  Your doctor will decide whether you can continue the medicines or you should stop them temporarily.
The Test Procedure
To perform this test, you need to reach your nearby lab or hospital. A technician or nurse will clean the site with antiseptic and will tie an elastic band around your upper arm to identify the vein. Then, the technician will insert a small needle into the visible vein to collect your blood sample. After that, the sample will be kept in one or more vials. Once the sample is collected, the technician will remove the band and needle. Your sample will be sent to the lab for a detailed analysis.
The Interpretation of the Result
Since this is a simple blood test, you may get the results within 24 hours of the test. Typically, the serum albumin normal range is between 3.4 to 5.4 grams per deciliter. Normal levels may vary between labs.
When your result is lower than the average range, you may have the below-mentioned conditions.
Crohn's disease

Liver disease

Celiac disease

Inflammation

Inadequate

nutrition

Shock

Nephritic or nephrotic syndrome
Your doctor may recommend some other tests to diagnose the disease. These diseases could be,
Cirrhosis

Hepatitis

Hepatocellular necrosis
If your albumin range is higher than the normal value, then this may portray that either you are eating a high protein diet or are dehydrated.
FAQs
What are the risks of this test?
Though side effects are minimal, still, you may experience some of the below-mentioned conditions.
1. Feeling dizziness
2. Exorbitant blood loss
3. A bruise under the skin
4. Local infection at the puncture site
What are the treatments for albumin?
Albumin treatment is based on your related health conditions. If you are having Hypoalbuminemia or low albumin levels, your albumin treatment methods could be
1. Blood pressure medications for those who are having heart failure or kidney disease
2. Lifestyle changes like discarding alcohol in people with liver disease
3. Medications to reduce chronic gastrointestinal disease
4. Antibiotics for the treatment of hypoalbuminemia after severe burn
5. Dietary changes
What Factors Affect Serum Albumin?
Serum albumin is affected by multifarious factors like plasma volume expansion, albumin redistribution, exogenous loss, increased fractional catabolic rate (FCR) and decreased synthesis. Decreased albumin synthesis is core responsible for hypoalbuminemia in hemodialysis (HD) patients.
Can stress reduce albumin?
A normal amount of albumin in your urine is less than 30 mg/g. If the level goes beyond 30 mg/g, then you may have kidney disease.