Receding hairline women is a common complaint that we often hear and that too from a wide spectrum of complainants. While there are many ways to combat the female receding hairline, watching out for the symptoms is often crucial, in order to ensure quicker diagnosis and treatment alike.
Condition-
Receding Hairline in Women
Causes
– Scalp Infections, Genetic Reasons, Forms of Alopecia, etc. 
Treatment
– Steroid Injections, Medical Procedures, and Other Medications. 
Receding Hairline Women- Some Vital Details
We often come across cases of females receding hairline at 20 or any other age. Some of the crucial facts worth noting include:
Receding hairline is common for men. 

Hair loss is sometimes tied to aging but affects younger individuals as well. 

Hair loss patterns are different for women and they do not witness the usual receding pattern which is common for men.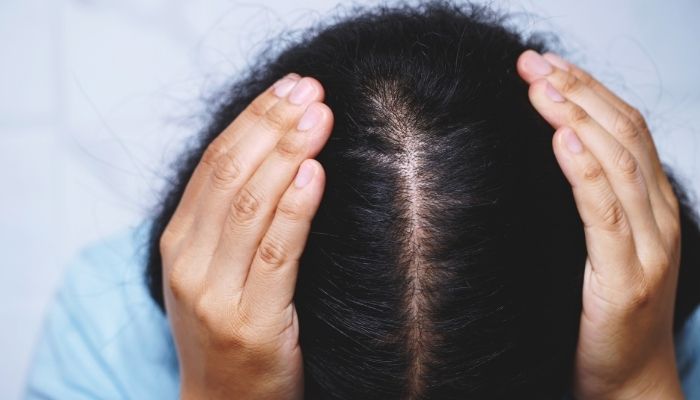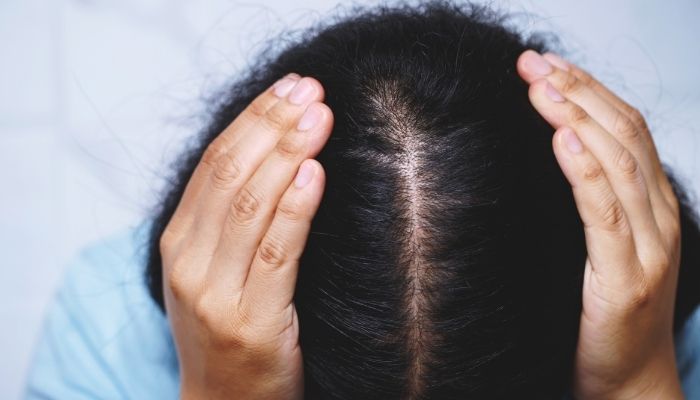 Causes for receding hairline in women
Specific forms of alopecia include frontal fibrosing alopecia or traction alopecia. The latter happens due to constantly tugging at the hair (due to pigtails, ponytails, or even braids) and the former is synonymous with slow but growing hair loss. 

Damages to hair follicles on account of various factors. 

Genetic factors. 

Hormonal changes due to menopause, pregnancy, thyroid, and other factors. 

Radiation therapies. 

Infections of the scalp. 

Medical ailments like ovarian tumors, infectious ailments, and other disorders. 

Side effects of surgeries. 

Specific medication or supplements for treating varied issues. 

Miscarriage. 

Excessive curling/blow-drying. 

Tightly pulling the hair into knots or such hairstyles. 

A protein-deficient diet. 

Hot oil treatments. 

Tumors and autoimmune ailments. 

Hair loss due to stress is called

telogen effluvium

. It leads to large volumes falling every time someone combs or shampoos her hair. 
Preventive Measures
Avoiding hairstyles or knots which pull the hair tightly such as ponytails, braids, and even buns. 

Avoid continual twisting, pulling, or rubbing the hair. 

Avoid chemical and hot oil treatments. 

Using particular types of combs. 

Combing/brushing hair in a gentle manner. 

Avoid supplements/medication that may lead to hair loss. 

Avoid smoking. 

Safeguarding hair from direct sunlight. 
Diagnosis and Treatments
The loss of hair may be diagnosed swiftly by your dermatologist and treated accordingly. 

The

pull test

is often used for finding out the actual condition of hair. 

Scalp biopsies are sometimes recommended by dermatologists for diagnostic purposes. 

Blood tests are also recommended for finding any possible medical issues like thyroid. 

One of the receding hairline women's treatment methods is the treatment of thyroid in case that is the reason behind hair loss.

Steroid injections are sometimes given for tackling immune system disorders leading to hair loss. 

Rogaine or Minoxidil is sometimes recommended by doctors for slowing down or stopping hair loss. Rogaine may help in the restoration of smaller portions of hair. 

PRP (platelet-rich plasma) therapies are also used by doctors sometimes to fix hair loss. There are treatments spanning three stages. The blood is drawn out from the individual and then processed, before being injected again into the scalp. This treatment method has been used by doctors for several other purposes including reviving injured ligaments, tendons, and muscles as well. 

Dritho-Scalp is one of the prescription medicines that promote the growth of new hair. Doctors may recommend similar medication for reviving hair growth or slowing the rate of hair loss. 

Surgical restoration of hair helps with the transplantation of the hair follicles and is another popular treatment method. 

Corticosteroids are prescription medicines that help in reducing inflammation visible around the hair follicles, enabling the growth of new hair again. They are sometimes recommended by doctors for treating severe hair loss. 

Biotin is another supplement that is often prescribed for tackling hair loss. However, there is no scientific confirmation as of yet on whether it works to stop hair loss or promote hair growth. 

Several studies and research reports also claim that essential oils such as peppermint or lavender oil may help in terms of the re-growth of hair. However, more trials and studies are required to substantiate these claims. 
Conclusion
You should always start any new treatment regime with the guidance and recommendations of your doctor or dermatologist. Make sure that you do not self-medicate or go for any supplements on your own. 
Keep a lookout for any symptoms that may occur, and instantly visit your dermatologist if required. Simultaneously, make sure that you gently handle your hair and avoid pulling/tugging it frequently. Consume a protein-rich diet and ensure that you get ample sleep every night. Combating daily stress is also a must for tackling a receding female hairline. Here's to better hair health!