An anti-CCP test (cyclic citrullinated peptide) measures antibodies in the blood. CCP antibodies are often known as anti-CCP antibodies. These are the types of antibodies called autoantibodies. Antibodies and autoantibodies are proteins produced by the immune system. Though antibodies safeguard you from various ailments by fighting foreign particles like viruses and bacteria, still autoantibodies can cause disease by killing your body's wholesome cells mistakenly.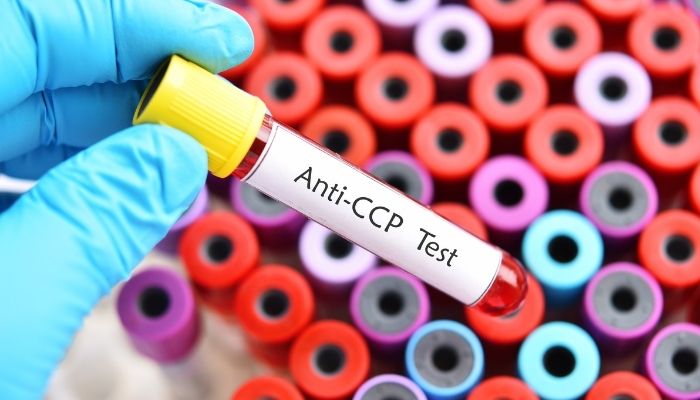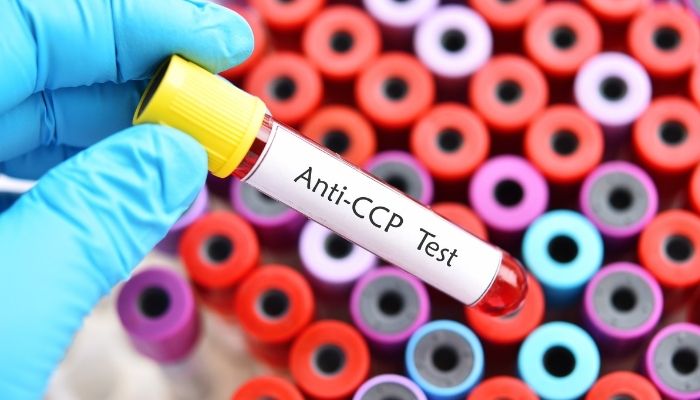 CCP antibodies attack healthy tissues of your joints. If an anti-CCP blood test shows CCP in your blood, then it could be a sign of rheumatoid arthritis. Rheumatoid arthritis is an autoimmune disease that is responsible for pain, swelling, and stiffness in the joints. More than 75 percent of people who are suffering from RA must have CCP in their bloodstream.
The cost of the CCP test is Rs. 1700 to Rs.2500, depending on your location and place.
Please check the price of the CCP test in Delhi/NCR, your nearby centers and other details.
Test Summary for Anti CCP Test
| | |
| --- | --- |
| Also known as | Cyclic Citrullinated Peptide Antibody, Anticitrullinated Peptide Antibody, Citrulline Antibody, Anti-Cyclic Citrullinated Peptide, Anti-CCP Antibody, ACPA |
| Test Type | Blood |
| Anti-CCP test includes | To check whether you have rheumatoid arthritis or not |
| Preparation | You may not need any special preparations. |
| Reporting | Within 24 hours |
| Test price | The cost of the CCP test is Rs. 1700 to Rs.2500, depending on your location and place. |
| Also included in | Health Insurance Plans |
| Related tests | ESR, C-Reactive Protein, Antinuclear Antibody, RS Factor, MRI, Ultrasound Scan |
What Is Cyclic Citrullinated Peptide?
Due to inflammation, your body converts the amino acid arginine to the amino acid citrulline. Cyclic citrullinated peptides are circular proteins that comprise citrulline. If you are having rheumatoid arthritis, then your joints will produce excess citrulline that can change the structure of proteins. Your immune system is capable of recognizing the changes in the proteins and responds by making cyclic citrullinated peptide autoantibodies. Autoantibodies are antibodies that attack a person's wholesome cells and tissues.
The Purpose of the CCP Test
The prime purpose of the anti-CCP test is to check whether you have cyclic citrullinated peptide antibodies in your bloodstream or not. Your doctor will refer to this test to check if you have RA since it is possible to measure cyclic citrullinated peptide antibodies in your blood with a blood test.
Why Do You Need the CCP Test?
Your doctor may suggest this test if you have symptoms of rheumatoid arthritis. These include:
Joint pain

Joint stiffness, especially in the morning

Joint swelling

Fatigue

Low-grade Fever
A CCP antibody test may help your doctor to check the severity of the disease and possible damage. 
Preparation of Cyclic Citrullinated Peptide Test
You may not need any preparation for the test. But if you are taking OTC supplements and other prescribed drugs, inform your healthcare provider about the same. You may need to stop the medications for several hours before the test.
Procedure of CCP Test
Once you reach your nearest lab or hospital, an experienced nurse or technician will check your arms to identify the vein from which he will collect the blood

After the identification of the vein, he will clean and disinfect the area with an antiseptic

He will insert a needle into your vein to collect your blood sample.

A small amount of blood will be accumulated in a test tube

Once your sample collection is finished, the person will remove the needle and place a bandage over the site.

The entire procedure gets completed within five minutes.
Interpreting Results of Cyclic Citrullinated Peptide
If your CCP antibody results are positive, it means these antibodies are present in your blood. A negative result indicates there are no CCP antibodies in your body. The meaning of these results may depend on the results of a rheumatoid factor (RF) test as well as a physical exam.
If you have symptoms of rheumatoid arthritis, and your results show:
Positive CCP Antibodies and Positive RF
These indicate you have rheumatoid arthritis
Positive CCP Antibodies and Negative RF
These portray you are in the initial stages of rheumatoid arthritis or will develop it in the future.
Negative CCP Antibodies and Negative RF
You are less susceptible to getting rheumatoid arthritis.
Sometimes, your doctor may recommend other tests to find out what is causing your symptoms.
Autoimmune conditions that may show positive test results for CCP antibodies are,
Type 1 autoimmune hepatitis (chronic liver disease) 

Psoriatic arthritis  

Palindromic rheumatism

Systemic sclerosis

Sjögren's syndrome  

Systemic lupus erythematosus 

Seronegative arthritis 

Osteoarthritis