Siddharth, a young man of age 45, was surprised when he saw bald patches appearing on the side of his head. Alarmed, he rushed to the doctor, only to be told that he had what was called alopecia areata. Do you have the same signs of alopecia areata? Then you should learn more about the prevalent alopecia areata causes, along with other alopecia areata triggers to combat the issue.
Learning More About Alopecia Areata
Alopecia areata is an auto-immune disorder, where hair loss takes place rapidly for any specific zone. The term equates to patchy baldness and any skin with hair may be impacted including the face and scalp. The disease impacts the follicles but does not eliminate them.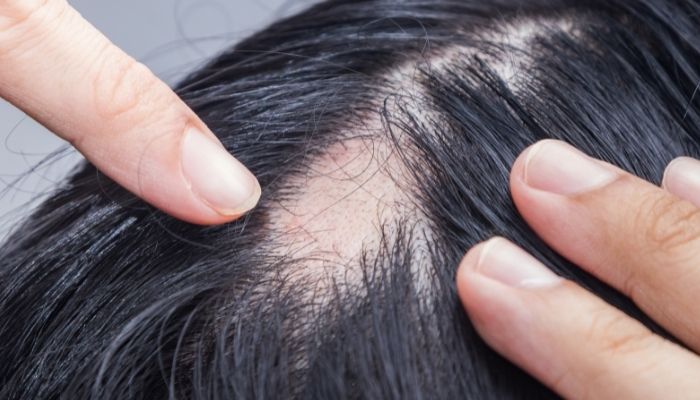 Hair may regrow over after some time without any scarring as a result. Genetic factors often influence such conditions and the symptoms may go away on their own. Yet, treatment methods do exist along with other strategies for tackling hair loss. Alopecia areata is not a severe condition but it does lead to overwhelming mental anxiety at times. 
Signs of Alopecia Areata
There are several signs of alopecia areata that you should keep in mind, including in the following:
Oval or round-shaped patches on areas with hair. 

Tingling/burning sensations in these areas at times. 

Healthy skin where hair loss took place without any irritation/rashes. 

Fast hair loss and regrowth in one zone while falling in another. 

Unusually shaped, small, and broken hair at the base, mostly like exclamation marks. 
Keep an eye out for any possible symptoms that may trigger hair loss. 
Alopecia Areata Causes
There are many alopecia areata causes in females and males alike. The disorder mainly impacts the immune system, leading it to target the hair follicles. Whenever any outside bacteria or agent makes the immune system discover a possible threat, it dispatches inflammatory elements to affected zones. In case of this ailment, antibodies are made in the body. The life cycle of a hair strand encompasses three phases, namely catagen, anagen, and telogen. The immune responses of an inflammatory nature led to the triggering of the late-catagen or premature-telogen stage in the hair follicles. There could be various causes behind the intrusion of bacteria and other harmful agents.
Risk Aspects
There are some risk factors for contracting this issue, including the following: 
Atopic eczema or dermatitis along with asthma and other allergies. 

Genetic factors. 

Autoimmune diseases including lupus, thyroid disorders, Vitiligo, rheumatoid arthritis and psoriasis. 

Excessively cold or low temperatures. 
These are some risk factors that you should keep in mind above all else. 
Diagnosis
There are no particular tests for the diagnosis of alopecia areata. The doctor usually takes a physical hair examination while learning about the patient's medical and family history simultaneously. Blood tests may also be conducted for finding autoimmune ailments while also ruling out the possibilities of other diseases like secondary syphilis, androgenic alopecia, telogen effluvium and trichotillomania. The diagnostic procedure may vary depending upon the symptoms and also family medical history which the doctor will carefully evaluate. 
Treatment of Alopecia Areata
The disease is not specifically curable although most patients usually witness hair re-growth within a year minus specific treatments. Hair loss may sometimes lead to major anxiety which requires counseling and mental guidance. The treatment decision includes several aspects like hair loss severity, age of the affected individual and the zone which is witnessing hair loss. Doctors may sometimes recommend topical steroids for hair regrowth. 
The doctor may also recommend steroid injections at times. The re-growth process may initially require 4-8 weeks with treatment procedures being implemented every 4-6 weeks. Other treatments include oral steroids, topical contact sensitizers, J&K inhibitors and so on. You should always consult your doctor for more guidance regarding the best possible treatment options for combating alopecia areata. You should however remember that the condition often resolves itself as mentioned. There is no specific cure as a result. 
The Bottom Line
Alopecia areata treatments may vary as mentioned, while there could be several diagnostic methods used by the doctor as well. You should get advice on possible triggers while maintaining good scalp and hair hygiene at all times. Make sure that you stay alert for any possible signs of hair fall and alopecia areata, while being tuned into remedies and other treatments. 
Always consult your doctor whenever required. The most important thing to remember is to avoid panicking in case of sudden and rapid hair loss. The problem will be resolved in time; what you should do is focus on the solution instead of panicking and suffering from mental anxiety. While hair usually grows back after some time, usually within a year, it is the mental anxiety that people need to be equipped to deal with.