Sahil, a young professional of age 30, was overweight and did not get any time to exercise, let alone follow a sustained regime. He tried tweaking his diet but it was apparently not working. Upon the advice of a nutritionist, he found the perfect cure for slow but steady weight loss, i.e., consuming natural juices on a regular basis. Juicing for weight loss is a strategy that has been employed by several people with successful results although these things do not come with a guarantee.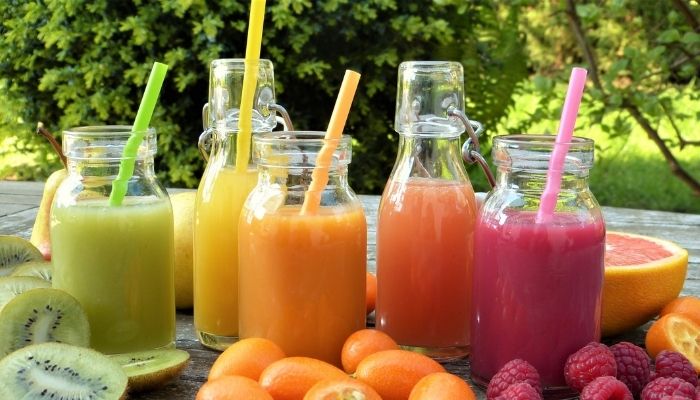 You may have already heard of the concept of detox juice for weight loss or green juice for weight loss. This article gives you insights regarding the best juice for weight loss.
8 Best Juices for Quick Weight Loss
If you were seeking the best juice for weight loss, then here are some of the top options worth considering by all means:
1. Celery Juice
This is an ideal detox juice for weight loss, considering its low-calorie count and 95% water content. Several reports have shown how choosing such low-calorie options may help with losing weight and fat alike. Celery juice also contains beneficial antioxidants and other plant-based compounds that help in lowering inflammation and oxidative stress.
2. Beet Juice
Beet Juice is often the preferred option for most athletes who are looking to enhance overall performance. This is because of its dietary nitrates and other helpful compounds. They may help greatly in boosting muscle efficiency and overall endurance along with lowering blood pressure through the dilation of blood vessels. Whole beets come with lower calories and fiber content that may help in enabling a feeling of fullness for a longer duration, thereby enabling smoother management of weight in the bargain. 
3. Pomegranate Juice
Pomegranate juice is healthy, refreshing, and delicious to consume. It is also ideal for losing weight as per several studies. It may help in combating sudden spikes or drops in blood sugar levels that may lead to higher hunger pangs. Antioxidants in the juice also help greatly in blood sugar stabilization. 
4. Green Vegetable Juice
This is a good green juice for weight loss. The ingredients may include leafy veggies such as cabbage, spinach, and Kale. They are higher in fiber and have lower sugar content while being packed with antioxidants that combat inflammation. You can customize these juices by fusing various ingredients.
5. Watermelon Juice
Watermelon juice makes for a nutritious, refreshing, and healthy beverage. It has low calories while containing micronutrients that are healthy for the heat, such as potassium and also Vitamins C and A. It also has high water content while keeping you fuller for longer periods of time. 
6. Lemon-Ginger Juice
This juice may also help in enhancing your body metabolism, thereby helping you keep off the weight while also lowering your appetite. They are also helpful in terms of staying fuller for longer periods. 
7. Carrot Juice
This juice is packed with beneficial nutrients, much-needed Vitamin A, and of course, carotenoids in each serving. You can also consider blending carrots in place of juicing the same. This may help in getting more fiber for staying full more often. This will automatically help in appetite regulation as well. Carrots contain carotenoids which are plant-based pigments contained in several vegetables and fruits. Studies have also found people lowering belly fat after consuming carotenoid-rich beverages for a sustained duration. 
8. Kale and Apple Juice
This is a unique option for those looking to harness the benefits of a healthy lifestyle. Kale contains close to a gram of fiber in every cup as per studies. Reports have also shown how it works to stabilize and maintain levels of blood sugar after the consumption of meals for human beings and animals alike. Apples are also known for their rich fiber content and several other beneficial nutrients as well. Consumption of apples is linked to higher weight loss and enhanced dietary quality for people of almost all ages as per studies. To create this healthy juice, one only has to blend some Kale leaves with some sliced apples. In fact, the flavors may be tweaked a little more with the addition of ingredients such as lemon juice, celery, carrots, and ginger. 
The Bottom Line
There are several suitable juices that enable smooth weight loss in the long run. However, nothing is guaranteed and you should keep this in mind. Weight loss requires adherence to a disciplined lifestyle overall. 
However, there are some juices that may help in keeping you fuller for a longer duration while giving you the benefits of antioxidants, vitamins, and other essential elements. This will not only boost your metabolism and immunity, but it will also help you steadily cut back on the calories and naturally lose weight in the bargain. The best part is that you can make all these juices easily at home.