Namita (25-years-old) works in a private advertising agency in Pune. Namita has put on some weight over the past few months. Now, Namita wants to lose those extra pounds to regain her shape and self-esteem. Namita has already implemented exercises like physical activities, yoga, etc. to curb her weight. But one of her colleagues advised her to consult a dietician for a diet chart for weight loss for female vegetarians.
Diet contributes extensively to your weight loss journey. Moreover, Namita is a vegetarian, so she should know what food items she should consume to boost up weight loss process. The dietician prescribed a proper diet plan for weight loss for females. Now, Namita has started to see the results because of her diet and exercise plan.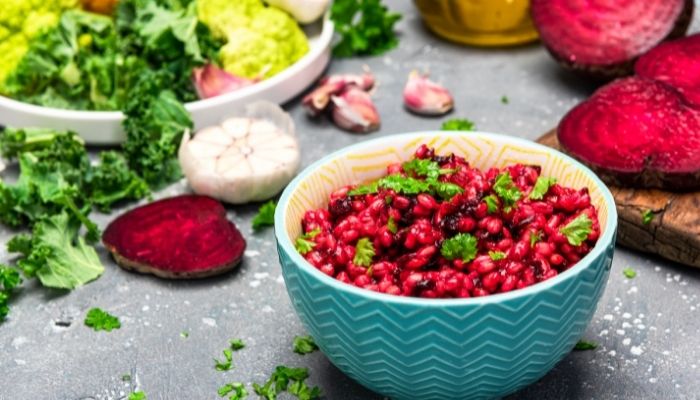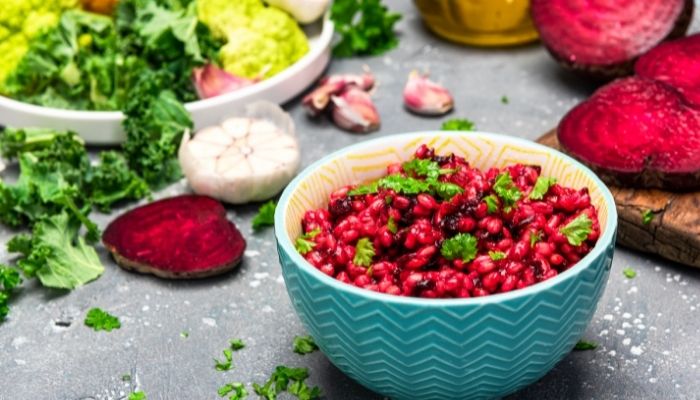 It is an ardent job to lose weight on a vegetarian diet. Because people are eating too many refined carbs or highly processed foods. This article will give you an idea regarding how to lose weight if you are on a vegetarian diet.
What is a Vegetarian Diet?
Vegetarian diets include all food items except meat, fish, and poultry. Some people follow this diet solely for religious reasons; others may follow this diet due to its health benefits.
Some prime types of vegetarian diets are:
Lacto-Ovo-Vegetarian: People consume eggs and dairy but exclude meat, fish, and poultry
Lacto-Vegetarian: In this type of vegetarian diet, people consume dairy but excludes eggs, meat, fish, and poultry
Ovo-Vegetarian: This type of diet allows eggs but excludes dairy, meat, fish, and poultry
Vegan: This type of diet excludes all animal products, including honey, dairy, and eggs
Many women used to follow a vegetarian diet as it helps them to maintain a healthy lifestyle. Vegetarian people consume food items like fruits, vegetables, whole grains, legumes, nuts, and seeds. These foods are fiber-rich and contain micronutrients and beneficial plant compounds. Thus, they offer lower calories, fat, and protein as compared to animal foods.
Tips to Lose Weight for Women on a Vegetarian Diet
Several strategies will help women to lose weight who follow a vegetarian diet.
Fill Half of Your Plate with Non-Starchy Vegetables: Always choose high-fiber vegetables, such as broccoli, cauliflower, zucchini, leafy greens, and mushrooms. These foods will help you to stay full and minimize calorie intake.
Incorporate Protein at Every Meal and Snack: Consume high protein vegetable items like beans, nuts, seeds, lentils, eggs, dairy products, and soy foods (tempeh, tofu, and edamame).
Go for Complex Carbs: These fullness-increasing foods are mainly whole grains, starchy vegetables, fruits, and legumes.
Monitor your Portions of High-Calorie Foods: Pair nuts, seeds, and wholesome fat with lower-calorie foods are ideal.
Consume Mostly Whole Foods: Unprocessed foods like whole fruits and vegetables don't contain any unnecessary ingredients.
Control Highly Processed Foods:  Discard meat alternatives, frozen meals, and other ultra-processed foods as they contain unwholesome additives, excess salt, and added sugar.
Also Read: What Is A FODMAP Diet? How Does It Deal With Digestive Issues?
A balanced vegetarian diet keeps focus on whole plant foods and restraints refined carbs and extensively processed products. Thus, a vegetarian diet is beneficial for your weight loss journey.
Vegetarian Food Items That Boost Your Weight Loss
To strengthen your weight loss process, follow a vegetarian diet that comes up with whole, minimally processed plant foods.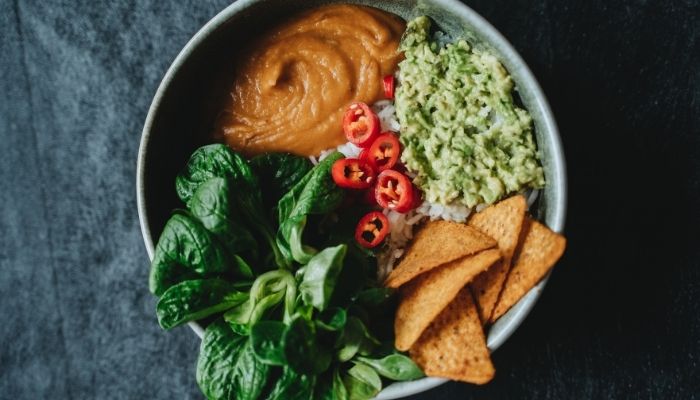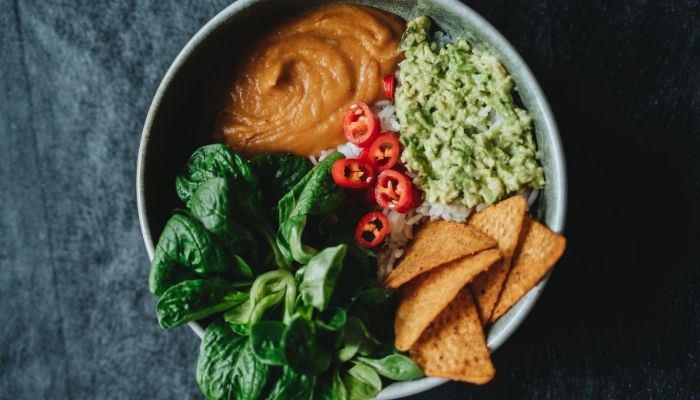 Vegetarian foods that support your weight process are:
Non-starch Vegetables: Broccoli, bell pepper, cauliflower, zucchini, mushrooms, tomatoes, eggplant, carrots, celery, and cucumber
Starchy Vegetables: Peas, potatoes, corn, and winter squash
Fruits: Berries, oranges, apples, grapes, citrus, kiwi, and mango
Whole Grains: Quinoa, brown rice, millet, barley, and bulgur wheat
Beans and Legumes: Lentils, black beans, pinto beans, and kidney beans
Nuts and Seeds: Almonds, walnuts, pistachios, cashews, sunflower seeds, chia seeds, and nut butter
Lean Proteins: Beans, legumes, nuts, seeds, nut butter, eggs, Greek yogurt, milk, and soy products like tofu, tempeh, and edamame
Healthy Fats: Avocado, olive oil, coconut, nuts, seeds, nut butter, and cheese
Water and other Nutritious Beverages: Organically flavored seltzer, fruit-infused water, and plain coffee or tea
Foods that you must avoid while following a vegetarian diet
Ultra-processed vegetarian foods: Vegetable burgers, meat replacements, freezer meals, frozen desserts, and artificial dairy products
Refined carbs: White bread, white pasta, bagels, and crackers
Sugary foods and beverages: Candy, cookies, pastries, table sugar, sodas, fruit juices, mocktails, and sweet tea
Let's take a look at a 5-day meal plan for weight loss for females.
Day 1:
Breakfast: You can start your day with steel-cut oats, apples, peanut butter, and cinnamon
Lunch: Try to consume healthy food items in your lunch. You can take a bowl of salad along with full-boiled eggs, avocado, tomatoes, and balsamic vinaigrette
Dinner: Go for light food items for your dinner like black-bean soup with Greek yogurt, whole-grain bread, and a small bowl of salad
Snack: Almonds and dark chocolates could be ideal
Day 2:
Breakfast: On day 2, you can start your day with broccoli, cheddar along with a handful of berries
Lunch: A burrito bowl with brown rice, pinto beans, tomato, onion, and avocado could be your ideal choice
Dinner: Zucchini noodles with sunflower seeds, and white beans are perfect for your dinner
Snack: String cheese or orange could be great
Day 3:
Breakfast: Start your day with Greek yogurt along with pineapple, shredded coconut, and walnuts
Lunch: Lentil soup, chopped bell peppers, and guacamole are the perfect options for your lunch
Dinner: Eggplant, Parmesan cheese along with whole-grain pasta and green beans
Snack: Granola bars or berries
Day 4:
Breakfast: A glass of smoothie made up of almond milk, spinach, hemp seeds, frozen berries, and a banana
Lunch: An egg salad on whole-grain bread with strawberries and carrots could be an ideal choice
Dinner: Prepare a stir-fry dish with tofu, carrots, broccoli, brown rice, soy sauce, and honey
Snack: Dried mango and pistachios
Day 5:
Breakfast: Make a healthy breakfast with two eggs and one slice of avocado toast along with a handful of grapes
Lunch: For lunch, you can prepare a salad with pecans, dried cranberries, goat cheese, and edamame
Dinner: Go for handmade chickpea patties alongside sautéed mushrooms and a baked sweet potato
Snack: Greek yogurt with cherries
The Bottom Line
Women who follow a vegetarian diet should choose nutritious foods that will boost their weight loss process. Discard refined carbs and highly processed food items. But you must remember that not all vegetarian foods are healthy and will help in losing weight. If you want to lose more fat from your belly, then follow a specific diet chart for belly fat loss for females.
Vegetarian Diet for Female FAQs
Is Poha good for weight loss?
Poha is a rich source of carbohydrates. It is an ideal breakfast option for those looking for ways to lose weight. It is very low in calories yet gives oodles of energy if taken in breakfast as the first meal of the day. Poha is also packed with fiber and is a completely gluten-free breakfast option.
Is rice good for weight loss?
Rice is a good source of carbohydrates. Rice is neither good nor bad for weight loss. Studies revealed that eating boiled rice is better than fried rice if you want to lose weight. Brown rice is even better, as it aids in weight loss.
Is milk good for weight loss?
Milk is full of nutrition but unfortunately, it doesn't help in weight loss. Milk instead, leads to weight gain. It helps in muscle growth, which means you will gain weight by drinking milk. Rich in protein and calcium, milk should be a part of your daily diet for so many reasons. Some latest research revealed that going on a milk diet helps to lose weight, but there is no strong evidence for the same.
Perfect diet chart for weight loss in one month?
The following diet chart will help losing weight in one month:
Early Morning: A glass of lemon juice in warm water
8 a.m. : Light breakfast like oatmeal, poha, a glass of milk and multigrain bread sandwich, a glass of smoothie, or whole-grain cereals.
10:30 a.m. : 5-6 soaked almonds and a few walnuts
1 p.m. : A bowl of fresh fruits like papaya, apple, guava, etc.
3 p.m. : A glass of buttermilk, a bowl of salad
5 p.m. : A cup of green tea and 8-10 roasted makhana
7 p.m. : A bowl of sprouts or salad
8 p.m. : A bowl of dal, two rotis, sauteed vegetables, and papad
10 p.m. : A small cup of warm milk or green tea
How can I reduce my stomach fat with exercise?
Yes, exercising does help in reducing weight. You can reduce stomach fat by indulging in specific belly fat exercises. Aerobic exercises are also effective in burning down fat from the stomach area. You can also try cardio exercises to reduce stomach fat but make sure to do it in the right way to achieve the desired results.