The benefits of green tea for the skin are numerous as experts would have you believe and they could be right as well! Consumed in several regions across the world, green tea is considered beneficial for tackling several health problems owing to its rich antioxidant and nutrient count. Studies have clearly shown how green tea benefits the skin and is further amplified owing to its antioxidant and anti-inflammatory characteristics.
That's not all; green tea is also helpful for combating diabetes, atherosclerosis, and myocardial infections. Some studies have shown how the polyphenols in green tea also have anti-cancer attributes while safeguarding the skin and boosting immunity simultaneously. 
Using Green Tea for Acne
When it comes to the benefits of green tea for skin, fighting acne is one of the biggest plus points. Using green tea for your face will help you combat the growth of acne as per reports. Studies have shown how the component EGCG contributes to green tea's antimicrobial characteristics while enhancing its anti-inflammatory and antioxidant attributes simultaneously. This goes a long way towards enabling better treatment of acne, a skin condition that we all suffer from, and of course, oiliness of the skin.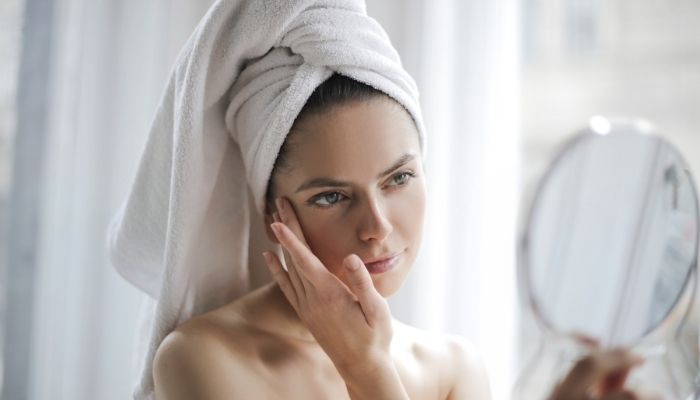 Acne is generated due to the skin pores being clogged up by excessive sebum production and subsequent growth of bacteria. EGCG is a marvel for fighting acne since it has anti-androgenic properties and helps in the reduction of lipids as well. It can steadily clear up sebum levels in the skin and this automatically contributes towards lower acne levels. Sebum is an element released by the sebaceous glands for moisturization of the hair and skin. 
However, excessive production is always harmful since it leads to acne. Androgens, on the other hand, are specific hormones that are produced by the body. High/volatile androgen levels may lead to higher sebum production. These are two specific issues that green tea fixes with aplomb. 
Can Green Tea Combat Skin Cancer as Well? 
Many studies have reported how green tea contains polyphenols that may function as agents for avoiding various ultraviolet exposure-driven ailments. They include photoaging, melanoma skin cancer, and non-melanoma skin cancer. This is one of the biggest reported benefits of green tea for the skin although several studies and research papers are still needed to substantiate these claims fully.
How Green Extracts Can Help?
Green tea extracts are hugely effective if they are periodically applied to the skin or consumed in the form of a supplement. They may help greatly in combating issues like atopic dermatitis, acne, rosacea, androgenic alopecia, genital warts, candidiasis, keloids, and more. 
Those with acne should use extracts of green tea for face packs. Make natural face packs and leave them on the skin for some time. Studies have shown how individuals have used green tea extracts for a few weeks and successfully reduced acne. Application of green tea to the skin may also help in fighting aging and the same benefits may be experienced by regular consumption of green tea as well.
Here are some other points worth noting: 
Studies report improved elasticity of the skin for women who consume and apply green tea regularly. 

Skin damage due to prolonged exposure to sunlight comes down with green tea extracts being applied in the right areas. 

Green tea also helps in fixing swellings around the eyes or any signs of puffiness. 
Combating Puffiness or Eye Swelling
You can follow a simple remedy by soaking two green tea bags in your steaming cup of tea and squeezing them to get rid of the extra liquid. Put them in the fridge for roughly 10-20 minutes and then put them on your eyes (closed) for half an hour. 
This works like magic in terms of reducing swelling around the eyes or puffiness. Research reports also state how the caffeine content in green tea goes a long way towards combating inflammation and swelling alike. However, carry out this procedure only after talking to your doctor or any health expert. Sometimes experts disagree with this process and recommend using a cool compress instead. 
Precautionary Steps
While endeavoring to fix any swelling around the eyes or signs of puffiness, make sure that you take some necessary precautions. They include the following: 
Remove all makeup beforehand. 

Wash your face and hands carefully. 

Do not go for tea bags that have staples attached to them. 

Remove your contact lenses if you are wearing them. 

Keep any liquid out of the eyes. 
The Bottom Line
Research reports and studies clearly indicate how green tea is beneficial for the skin. Green tea can be applied in the form of an extract and also consumed regularly. You can experience a variety of benefits including anti-aging, reduction of acne, glowing skin and of course, combating melanoma or non-melanoma skin cancer in the long run. Talk to experts and get started on your new regime accordingly.