Kishore aged 63 is a senior person who is keen to indulge in strength exercises. But, due to his age, he is confused about whether to perform them or not. This is because his muscle mass might have decreased effectively due to aging, which may lead to various problems. So, he worked with a fitness trainer, who advised him to exercise for seniors. As a result, he is now experiencing good results after carrying out exercise workouts for seniors.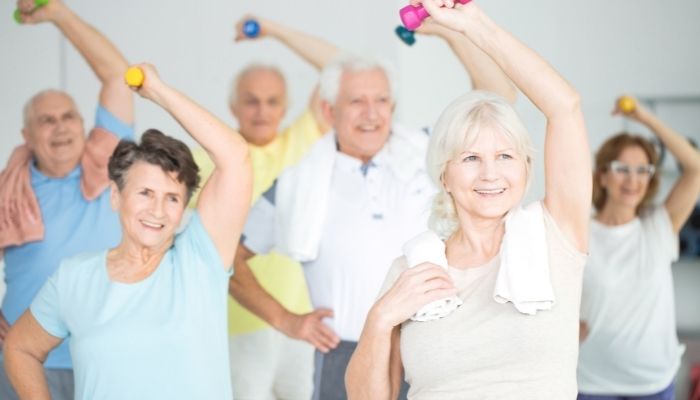 Yes, seniors can execute strength exercises irrespective of their age and health. However, they need proper care to avoid injuries and other problems to a large extent. Since a sedentary lifestyle can lead to various issues, it is wise to do some exercises to maintain the fitness levels even as you grow old. This, in turn, gives ways to accomplish goals with high success rates allowing a senior person to lead an active lifestyle.
Why Do Seniors Need Strength Exercises?
Strength exercises allow seniors to focus more on their health objectives. The pre-existing conditions are common in older adults and they are afraid of getting hurt. However, senior citizens can gain more advantages when they perform strength exercises properly under the supervision of a fitness trainer. Starting exercises slowly will help a lot to ensure the desired outcomes.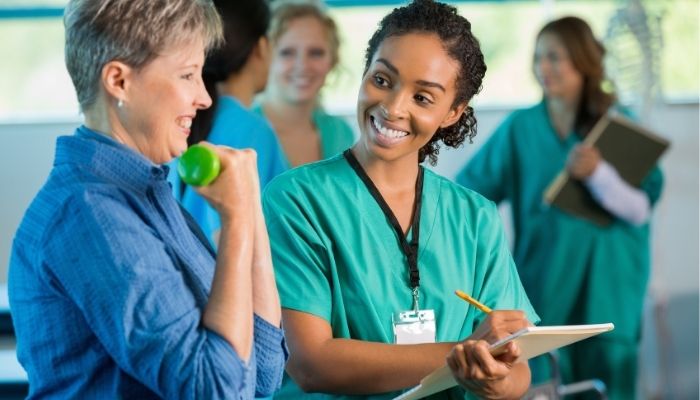 Moreover, doing activities allow the elderly to achieve apt senior fitness. Strength exercises make a senior person reduce health complications because they provide the necessary energy needed for the body. They even help focus more on health goals with high efficiency.
Also Read: Benefits of Best Senior Citizen Health Insurance in India

Types Of Strength Exercises Recommended for Senior Citizens
1. Squats 
Squats are easy to do exercises, allowing a senior person to significantly strengthen his/her lower body and core. Moreover, one can perform this activity by standing in front of a sturdy chair which helps to undergo major changes. Therefore, it is wise to carry out this activity freely, which will help a lot to enhance the health conditions.
2. Wall Push-Ups 
Wall push-up is one of the best activities meant for senior fitness because it gives ways to target muscle groups in important areas. It is easier than a standard push-up that will help obtain optimal results. The activity allows older adults to engage their muscles across the upper body, including pectoral muscles. Another advantage of a wall push-up is that it helps to increase a person's stability effectively.
3. Toe Stands 
Toe stands aim at strengthening the calves and ankles of a senior person. They also play an important role in enhancing the body's stability and balance. To complete this exercise, a person should start by using a chair. One should push his/her heel as far as he/she can onto the balls of the feet. A person can do this activity for two or five seconds and slow down his/her feet to the floor.
4. Side-Lying Circles 
This little movement provides ways to strengthen the hips that will help improve the mobility of the joints. Senior citizens can benefit a lot from this exercise, enabling them to keep their health in a perfect state. To do this exercise, one should put his/her legs on the right side and lift them at certain angles. Anyone new to the activity can learn the instructions from videos that will help overcome complications.
5. Dead Bugs 
The dead bug is one of the best exercises designed for senior citizens because it provides more strength by improving the core stability. Those who want to perform this activity should lie flat with his/her back by legging up their arms and legs up in the air with bent knees. They should now press the middle of their lower back into the floor. The next step is to lower one leg towards the floor and the opposite arm behind them. In the same way, one has to repeat the activity with opposite arms and legs as many times.
6. Side Leg Lift
Side leg lift is one of the best senior workouts that help them improve balance and strengthen both legs. This exercise requires the usage of stabilizer muscles which give ways to build strength in the hips and glutes. Apart from that, the activity plays a key role in addressing the needs of seniors who want to focus more on their health goals.
7. Bicep Curl 
A bicep curl is a weight training exercise that allows senior citizens to enhance their muscle conditions. At the same time, it is important to start the activity with low weights that will keep health in good condition. Senior citizens should avoid doing this exercise faster to avoid unwanted complications. Not only that, they must prevent improper elbow position while performing the activity. While doing this exercise, one should follow the instructions carefully that will help minimize risks to a large extent.
8. Glute Bridge
Glute bridge is one of the right exercise workouts for seniors that provide ways to get the desired outcomes. A person should lie his/her back with knees hip-distance apart and feet flat under the knees. It is important to engage the core and squeeze glutes. The next step is to lift hips like a bridge, and a senior citizen can benefit from this activity in various ways that will help lead an active lifestyle. At the same time, it is necessary to perform the activity safely to avoid unwanted problems. Besides that, this exercise will help senior citizens to live healthy lives.
The Bottom Line
Senior citizens who want to carry out strength exercises should consider performing them with a trainer to avoid risks. Furthermore, they should perform them with safety measures that significantly help accomplish goals. Strength exercises enable senior persons to build their muscles. However, they should consult with a professional trainer to know how to do them properly, which gives ways to get the desired outcomes. A trainer will guide elderly persons to carry out exercises with high efficiency, which paves the way to lead a healthy lifestyle. Also, it enables senior citizens to perform activities with ease that help build and keep muscles.