The kidneys play an imperative role as they excrete and remove waste products and extra fluid through urine. When you are healthy and hydrated, the color of your urine should be a pale yellow. Urine normally contains some yellow pigments called urobilin or urochrome. Dark yellow urine is mainly due to dehydration. However, this could be due to some underlying health issues or perilous waste products are moving through your body.
Dark Yellow Urine Even While Drinking a Lot of Water
Health issues that can make your urine dark yellow colored are:
Hepatitis

Rhabdomyolysis

Cirrhosis

Glomerulonephritis

Trauma

Biliary obstruction

Gallstones

Bladder cancer

Bladder stones

Jaundice

Liver diseases

Kidney cancer

Pancreatic cancer

Malaria

Thalassemia

Porphyrias

Adverse effects of blood-thinning medications

Bladder or kidney stones

Strenuous exercise activities (cause muscle injuries that stimulate the release of waste products in excess. As a result, your urine can be pink or cola-colored)
Sometimes, you may not differentiate due to dehydration or due to other health issues. Due to dehydration, your urine-colored should be amber or honey color.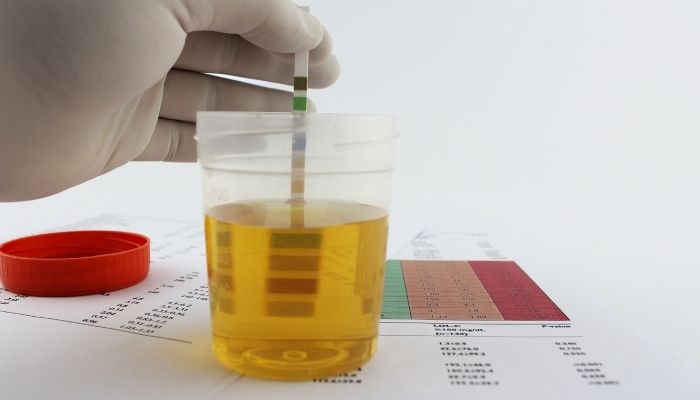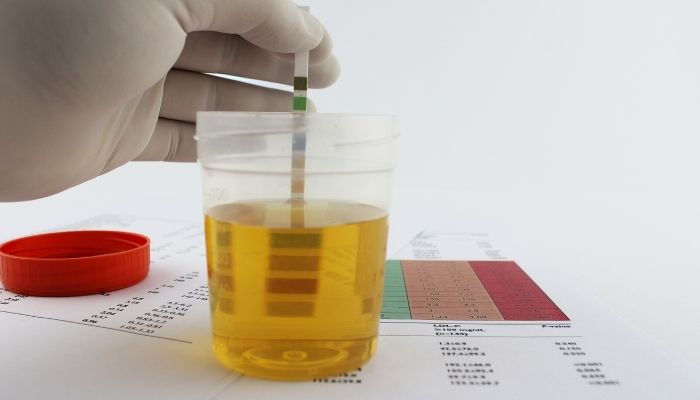 Due to other health issues, your dark-colored urine could be brown or red. If you are dehydrated, you may experience some additional symptoms including
Dizziness or lightheadedness

Dry mouth

Dry skin

Headache

Thirst

Constipation
While drinking adequate water, your urine color becomes lighter. Thus, you can understand whether dehydration is the prime reason for dark-colored urine.
When to see a doctor if you are experiencing dark-colored yellow urine?
You should consult a doctor under the following scenarios.
When you notice blood in your urine

Dark urine that doesn't go away even after drinking adequate water

If you have dark-colored urine along with severe back pain, then maybe you are having kidney stones or a urinary tract infection

If you are having other symptoms like nausea, vomiting, or a high fever, you should consult a doctor
Diagnosis
If you experience dark-colored urine other than dehydration, you should evaluate your condition by your doctor. Your doctor may ask about your medical history and will conduct a physical examination and urinalysis.
For urinalysis, you need to give at least a two-ounce sample of your urine. A lab or diagnostic center will check the urine for the presence of several things. These conditions may be responsible for dark-colored urine. Examples include
Bacteria

Bilirubin

Crystals

Glucose

Protein

Red blood cells

White blood cells
Based on three components, the lab will give the report.
A visual exam will be conducted to check whether the urine is clear, cloudy, and concentrated, along with its color.

Some chemical tests are conducted along with bilirubin, ketones, proteins, and glucose.

A microscopic examination to check the presence of bacteria
Generally, you need to give the first urine (in the morning) for the test. This urine will show abnormalities if there are any.  This is highly concentrated than other urine that you produce over the day.
If the analysis gives abnormal results, your doctor may recommend some other tests. These tests could be blood testing or urine culture. All these tests will identify the presence of bacteria in your urine. Sometimes a complete blood test (CBC) or comprehensive metabolic panel will help your doctor identify if you are having a kidney or liver disease. Depending on your symptoms, medical history, and other test results, your doctor will suggest the best line of treatment.
Urine Color Signifies
Depending on your food habits, medications, and how much water you are taking, your urine color may vary.
1. Clear Urine
Clear urine indicates you are drinking too much water. If your urine is always clear, then you need to reduce the amount of water that you are taking. Clear urine may indicate some health issues like cirrhosis and viral hepatitis.
2. Yellowish to Amber Urine
This color indicates that you are healthy and fit. The urochrome pigment gives this color to your urine, but it becomes diluted if you drink more water. If you consume too many B vitamins, then your urine may look like neon yellow-colored
3. Red or Pink Urine
Some food items like beets, blueberries, rhubarb, etc. will make your urine pink or red. These items contain pink or magenta pigments.

Some health conditions like enlarged prostate, kidney stones, or tumors in the bladder or kidney may make your urine red or pink-colored

Some medications including senna or senna-containing laxatives, phenazopyridine (Pyridium), and the antibiotic rifampin may make your urine reddish or pink-colored
4. Orange Urine
If you are dehydrated, then your urine may appear an orange color

Orange-colored urine may indicate that there are some issues with your bile ducts or liver. Adult-onset jaundice can make your urine orange-colored.  

Some medications like

phenazopyridine (Pyridium), the anti-inflammatory drug sulfasalazine (Azulfidine), and chemotherapy drugs may give the orange color to your urine
5. Blue or Green Urine
Food coloring

,

especially a dye called methylene blue, makes your urine blue-colored. This dye is present in many candies and medications

Medications like

cimetidine (Tagamet), amitriptyline, indomethacin (Indocin), promethazine (Phenergan), and B vitamin supplements may make your urine blue-colored

Pseudomonas aeruginosa is a bacterial infection that can cause your urine to turn blue, green, or even indigo purple.
6. Dark Brown Urine
Dark brown urine indicates you have dehydration

Sometimes, you may get brown-colored urine due to side effects of certain medications like metronidazole (Flagyl) and nitrofurantoin (Furadantin), chloroquine (Aralen), cascara or senna-based laxatives, and methocarbamol

A healthcare condition like porphyria can make your urine corroded or brown-colored

Dark urine also indicates that you have some liver diseases

Strenuous activities like running can cause dark brown urine, but it will resolve within some hours
7. Cloudy Urine
Cloudy urine may also be the result of some chronic diseases and kidney conditions. Sometimes, cloudy urine is another sign of dehydration

If you have cloudy urine during your pregnancy, then this could be a dangerous condition called preeclampsia

Cloudy urine with bubbles is called pneumaturia 
The Bottom Line
Dark urine color may be the result of dehydration or a side effect of medications you are consuming. Urine color will become normal within 2 to 3 days if you don't have any underlying conditions. But if you experience other symptoms along with dark-colored urine, you should consult a doctor immediately.