Shalley is a 28-year-old married woman with a 7-year-old son. Off late, she is suffering from severe hair fall and dandruff issues. She tried several hair products and shampoos, but nothing worked for her. It was then that one of her friends advised her to try amla hair oil and amla juice to get rid of her hair problems. After two months of regular use of amla hair oil, and consuming amla juice empty stomach, Shalley has overcome her hair problems and is happily recommending amla uses for hair to everyone she comes across who is suffering hair problems like her.
Amla is one miraculous ingredient that belongs to the deciduous tree family of Phyllanthaceae. Eaten as a sweet murabba, powder, or in the juice form, the Indian Gooseberry or amla has been extensively used in various herbal preparations due to its Ayurvedic properties. Similarly, most of us are aware of amla hair oil's benefits and how potential this small ingredient is in nourishing our hair and scalp.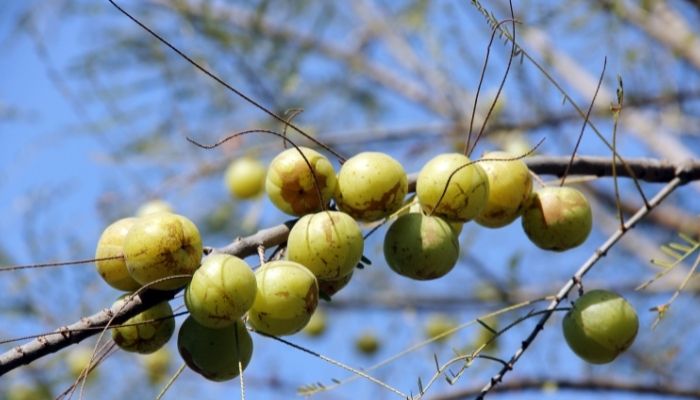 Let us dig deeper to understand the various amla uses for hair and why it is considered to be one of the most effective hair loss treatments in India?
Amla – The Indian Gooseberry Nutrition Fact Sheet
Amla is a superfood known as an excellent source of various nutrients like Vitamin A, C, E, Iron, Calcium, and Minerals. Listed below is the nutrition fact sheet of 1 cup of amla or Indian gooseberry fruit:
Carbohydrates – 13.5 g
Protein – 1 g
Iron – 1.2 mg
Calcium – 50%
Vitamin C – 46%
Vitamin B5 – 9%
Vitamin B6 – 7%
Copper – 12%
Manganese – 9%
Potassium – 6%
Fiber – 3.4%
Protein – 0.5%
Fat – 0.1%
Energy – 66 kilocalories
Read More: Use these simple best ayurvedic herbs for hair growth
Amla Oil Benefits
1. Promotes Hair Growth
The Indian gooseberry is miraculous when it comes to promoting hair growth. Being a rich source of Vitamin C, minerals, and other phytonutrients, amla oil helps to increase the overall scalp circulation, thus promoting hair growth. 
2. Natural Hair Conditioner
Secondly, amla works as a tremendous remedy for those looking for a natural hair conditioner. Amla oil helps to moisturize dry hair and if you have oily hair, you can replace amla oil with amla powder as a natural hair conditioner. 
3. Prevents Dandruff
Another remarkable benefit of amla oil for hair is that it helps prevent dandruff. Dandruff in hair is often the result of dry scalp, so when you massage amla oil on the scalp, it will moisturize your scalp thereby making it dandruff-free. 
4. Best Scalp Cleanser
Likewise, you can rely on the power of amla oil to cleanse your scalp. You can use amla oil or even amla juice as a great scalp cleanser. Amla is rich in antioxidants that help to shield hair against pollution, and other dust. 
 5. Antioxidant Properties
Amla oil is also packed with antioxidants, which makes it ideal for hair and scalp. The rich content of antioxidants in amla will help your hair get all the nutritional value to strengthen your hair. 
Benefits of Amla for Hair
1. Prevents Premature Hair Graying
One of the best benefits of amla oil is that it prevents premature hair graying. Amla helps control excessive pitta in the body, which is the ultimate cause of gray hair, thereby amla oil helps in preventing hair graying. 
2. Makes Hair Strong and Long
Amla oil when used regularly on hair and scalp results in long and strong hair. Using a herbal shampoo that includes amla in its formula will also boost up this particular benefit of making your hair strong and long. 
 3. Natural Shine
Ever wondered why most of the hair products these days include amla in their composition? This is because amla has the natural power to make your hair shine. It is a perfect ingredient to add in henna color to add that shine to your hair. 
 4. Tames Frizzy Hair
Not to forget that when it comes to tame frizzy hair, amla is simply unmatchable. Full of moisture, amla helps to moisturize your frizzy hair and remove dead cells from your hair. You can use amla in the form of an oil or powder pack to tame your frizzy hair. 
5.
Thickens Hair
Drink amla juice regularly to thicken your hair. Being a rich source of vitamin C, amino acids, antioxidants, and other minerals, amla helps to nourish your hair inside and outside. 
 6. Enhances Hair Pigmentation
Last of all, not many people are aware but one of the most remarkable amla hair oil benefits is that it helps enhance hair pigmentation or hair color. When added to a hair pack or hair color, amla powder or amla oil can make your hair color more natural and long-lasting.
Choosing the Best Amla Oil for Hair
Now, comes the big question, of how to choose the best amla oil for hair? The market is full of dozens of hair oils all claiming to be made of pure amla oil, but how to pick the right one that will work magic for your hair? For this, make sure to check the label of the product and its country of origin. Besides, always opt for an organic or cold-pressed plant oil instead of one with added fragrances and preservatives. Such Ayurvedic products are contaminated in countries like the U.S. because they have no genuine knowledge of the product and its Ayurvedic properties. So, try to buy Indian amla oil for more genuine results. 
The Bottom Line
Our ancestors have hailed amla as a 'Rambaan' for many health issues and this is the reason that it is one of the key ingredients used in Chyawanprash and other immunity-building medicines and supplements. Amla or the Indian Gooseberry boasts antibacterial, antifungal, and antiviral properties, all in one. All these properties can be fetched in eating the fruit as a whole, or its extracts. Amla hair oil is particularly useful for those suffering from alopecia-like hair problems.