Rakesh is a 45-year-old man. He was startled to hear some of his colleagues discussing normal Creatinine levels and wondered about his own. However, he was confused about where to begin. If you are thinking on similar lines as Rakesh, here are some tips on the Creatinine normal range and other crucial aspects.
Why Do You Need to Check for Normal Creatinine Levels?
Checking for Creatinine normal range is essential since the kidneys cannot maintain the same at times. Creatinine is reportedly one of the biggest indicators of possible kidney ailments. Higher levels indicate kidney ailments or impairment of kidney functions. With the kidneys getting affected for various reasons, Creatinine levels in your blood will go up owing to issues with its clearance through the kidneys. Excessive Creatinine levels are hence indicators of any malfunctions or kidney failures.
This is why blood tests check serum Creatinine levels or the normal serum Creatinine level as per recommendations. Another estimate is the volume of Creatinine that is cleared out by the kidneys from the body. This is called Creatinine clearance and helps in estimating the rate of kidney-based filtration or GFR (glomerular filtration rate). You can track clearance by a special formula that uses the serum Creatinine level as mentioned above along with the weight of the individual and his or her age. The formula has to be 140 subtracted from the age of the person (years) multiplied by the weight in kg (multiplied by 0.85 for women). This is then divided by 72 times the serum Creatinine level (mg/dL).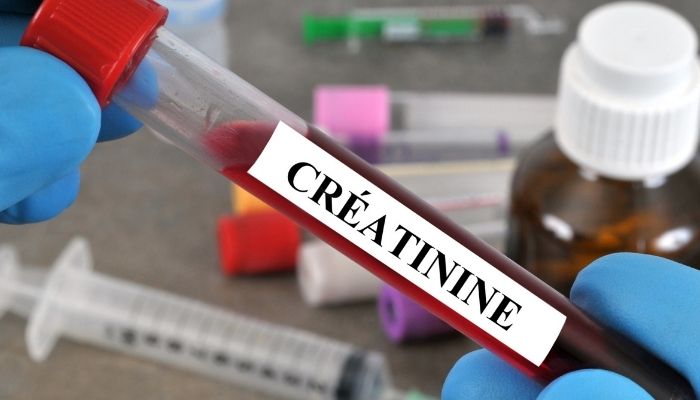 This Creatinine clearance may also be measured via a collection of a 24-hour sample of urine and taking a blood sample thereafter. The levels of Creatinine in both the blood and urine are examined and compared. The normal clearance is 88-128 mL/min for women and 97-137 mL/min in the case of men. The BUN (blood urea nitrogen) is another signifier of kidney functions. Urea is another byproduct that may build up eventually in case of impairment of kidney functions. The ratio of BUN to Creatinine may help in garnering more information regarding the functioning of the kidneys and the underlying causes behind the same. BUN may also go up on account of dehydration. Studies have also linked higher levels of Creatinine with bacteremia. 
Finding Out More About Normal Creatinine Levels
The normal Creatinine levels are roughly 0.6-1.2 milligrams (mg) per dL (deciliter) for males and approximately 0.5-1.1 mg/dL for females. Those with a single kidney may have 1.8/1.9 as their normal thresholds. Levels touching 2.0 or higher for babies and 5.0 or more for adults may indicate kidney diseases. The requirement for a dialysis machine for the removal of waste from the blood depends upon various factors including the level of Creatinine, BUN, the level of potassium, and the fluid retained by the individual.
Symptoms Linked with Higher Levels of Creatinine
Here are some symptoms linked to higher Creatinine levels: 
Some people may have higher Creatinine levels without any symptoms at all. 

Some may find out about kidney diseases and higher levels of Creatinine simultaneously without symptoms. 

Other symptoms include feelings of dehydration, swellings or edema, fatigue, confusion, shortness of breath, and other symptoms such as vomiting, nausea, dry skin, and neuropathy. 
Causes Behind Higher Creatinine Levels
Any issue that impacts overall kidney functions may increase the levels of Creatinine in the blood. What matters is identifying whether the procedure triggering kidney failures, dysfunctions, or azotemia is a long-drawn one or anything that has happened recently. Any elevations in levels that have taken place lately may be easily reversed and treated likewise. The commonest reason for chronic kidney ailments for adults is high diabetes and blood pressure. 
Some other reasons behind higher levels of Creatinine include the following: 
Specific medications like

Bactrim

or

cimetidine

lead to abnormal increases in Creatinine levels. 

Serum Creatinine may also increase temporarily after consumption of meat in a higher amount. Hence, nutrition is sometimes linked to the measurement of Creatinine. 

Other reasons include conditions such as

rhabdomyolysis

which is basically a breakdown of abnormal muscles and also infections of the kidneys along with any possible obstruction of the urinary tract. These may lead to sudden elevations in the levels of Creatinine in the blood. 
The Bottom Line
Those individuals who are muscular in their youth or middle-age may witness higher Creatinine levels in their blood as compared to regular individuals. Seniors and elderly citizens may have lower levels of Creatinine in their blood than the normal thresholds. Infants usually have normal Creatinine levels touching 0.2 or slightly higher, based on their overall muscle development stage. 
For those suffering from malnutrition and weight loss along with other long-drawn ailments, muscle mass usually reduces over a certain period of time and hence, Creatinine levels could be slightly lower than expected for the age group in question.