You may have heard of Merkel cell carcinoma or MCC, which is also known as neuroendocrine carcinoma affecting the skin. This is a specific skin cancer type that takes place when skin or Merkel cells start growing excessively. It shows in the form of purple or red lumps on the skin which get sunlight exposure, like the neck, face, or arms. Merkel cell cancer or skin cancer is one of the rarest types of skin cancer as per reports.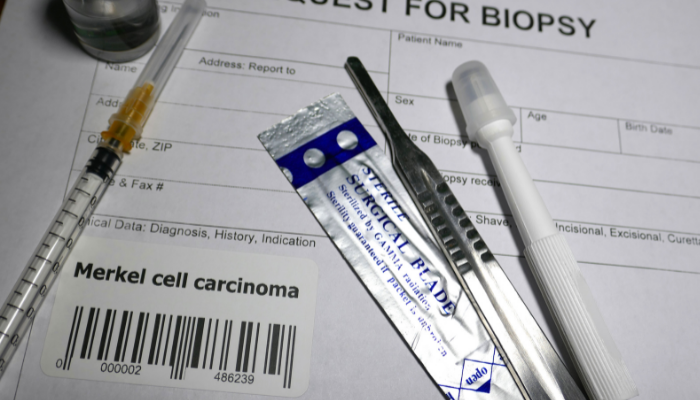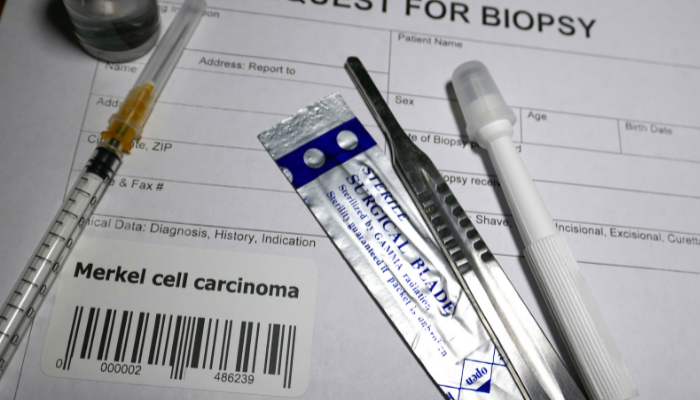 How is Merkel cell carcinoma different? This is different owing to the prevalent cell types. This carcinoma begins in the Merkel cells. However, the commonest form of skin cancer, namely basal cell carcinoma, takes place in the skin's basal cells. Melanoma takes place from melanocytes as these skin cells are known.
Merkel Cell Carcinoma Stages
Before learning more about Merkel cell carcinoma treatment, you should learn about the prevalent stages. After the initial diagnosis, doctors will operate various tests for discovering whether cancer has covered other body parts. This is known as staging and they include the following (0-4 stages):
Stage 0-

Cancer remains solely in the epidermis without spreading to the individual's lymph nodes. 

Stage 1-

Cancer is lower than 2 centimeters without growing into any specific lymph node. 

Stage 2-

Cancer has exceeded 2 centimeters without getting into the lymph nodes. 

Stage 3-

Cancer has already expanded to the lymph nodes along with other tissues nearby. 

Stage 4-

Cancer has already covered tissues nearby along with the lymph nodes and other zones like the brain, lungs, and bones. 
Symptoms
There are numerous Merkel cell carcinoma symptoms related to a nodule or lump forming on the skin of the individual. They may usually be firm, violet/red, and painless/rapidly growing. They are mostly found in the neck, face, and arms. Once cancer covers the lymph nodes, they may become large and start being visible as skin lumps.
Merkel cell carcinoma may seem like various other types of skin cancer initially although a comprehensive diagnosis is not done after the biopsy happens. Other skin cancer types often come with symptoms like higher bumps, nodules of an abnormal type, moles with an irregular shape, and brown, red, blue, and pink skin patches of rough nature. If you notice any such lump, then you should go to a doctor for a thorough examination and diagnosis.
What Leads to Merkel Cell Carcinoma? 
There are several predominant causes of the ailment which start at the bottom of the epidermal layer or the Merkel cells. The epidermis is the skin's external layer and the Merkel cells are linked to the nerve endings which create the feeling of touch. The disease takes place when there is something affecting these skin cells and leads to unimaginable growth. 
Some of the risk factors include excessive exposure to sunlight, age more than 50 years, usage of tanning beds, a weak immune system including those suffering from leukemia/HIV, and those consuming drugs in the immunosuppressive category. Those with light-colored skin are also at risk as per reports. 
Diagnosis
Diagnosis is sometimes done in the form of a physical test by the dermatologist or the doctor. The doctor will inspect any lesions, nodules, or moles along with lumps on the skin. They will enquire about the medical history of the family along with an overall history of exposure to sunlight and also whether any individual in the family has ever had skin cancer. 
If anything is diagnosed by the doctor, then a skin biopsy may be done for evaluating signs of cancer. During this biopsy, a small amount of the skin lump will be taken out for examination under the microscope. If this biopsy comes as positive for the Merkel cell carcinoma disease, then extra tests will be carried out by the doctor for working out the cancer stage and coverage. These may include the following: 
A

sentinel lymph biopsy

for working out whether cancer has already infiltrated the lymph nodes as well. 

Imaging procedures include PET (positron emission tomography), X-rays, CT (computed tomography), and MRI (magnetic resonance imaging) to name a few. 
Treatment of Merkel Cell Carcinoma
The treatment of the disease will cover these steps: 
Surgery for the removal of the impacted lymph node and the body tumor. 

Chemotherapy medication if cancer has already affected the lymph nodes and other body parts and whether it comes back after radiation and surgery. 

Radiation-based treatment helps in putting beams with higher energy at the cells which are impacted by cancer. 
The Bottom Line
There are several complications that may also arise since Merkel cell carcinoma is known to be aggressive by nature. It may spread quickly or metastasize to other body parts like the brain, lymph nodes, and lungs also. Metastatic cancer is already hard to treat and comes with a lower rate of survival too.