The gruesome COVID-19 has crippled every nation and utterly destroyed the world's economy. India is one of the nations that have faced the wrath of the COVID-19 very severely. This deadly pandemic has claimed many lives, including adults and children in India. The Indian government has enforced lockdowns, social distancing, and other protocols to control the spread of the virus. But, the good news is that India has started to vaccinate its adult population from January 16th, 2021, to improve protection and immunity against this deadly virus.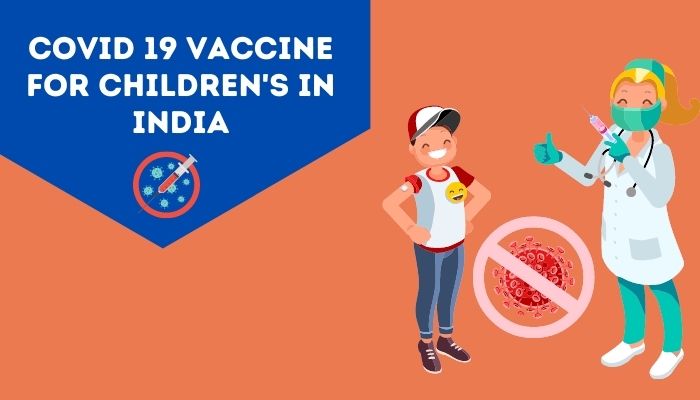 Two popular COVID vaccines (Covishield and Covaxin) are ruling the market. Unfortunately, there is no particular COVID vaccine for kids/children. So, how is the government planning to inoculate children in India or Is the COVID vaccine effective for children? Let's dig deeper.
In this Blog Post
Is the COVID Vaccine Safe for Children?
There is no approved COVID vaccine for children in India. Central Drugs Standard Control Organization (CDSCO) has granted permission to conduct a clinical trial of five Covid-19 vaccines in children and adolescents. These vaccines are still in the trial stages and have produced excellent results, but there were no significant adverse effects observed during trials. Some children experienced mild side effects like pain at the injection site, fatigue and headache. Those side effects usually are resolved within a day or two.
Lists of COVID-19 Vaccines for Children That Are In Trials
The top 5 five vaccines that are in trials are
      Cadila Healthcare's ZyCoV-D,
      Bharat Biotech's Covaxin,
      Serum Institute's Novavax,
      Biological E's RBD,
      Johnson & Johnson's Ad 26COV.2S vaccine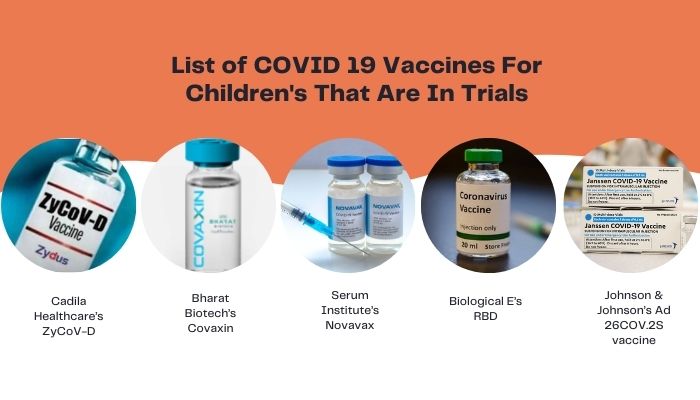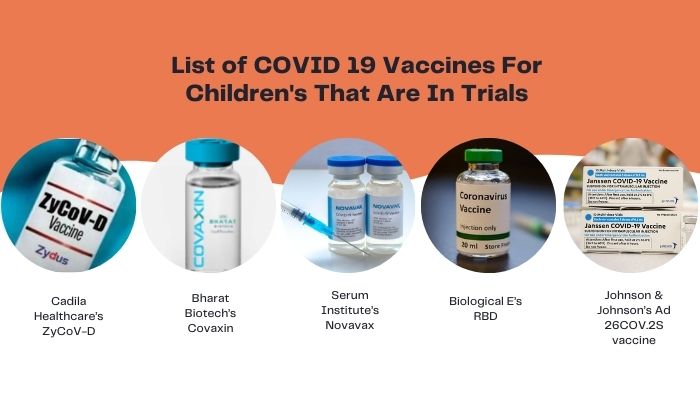 Cadila healthcare has already conducted a Phase-III trial of ZyCoV-D (recombinant DNA) in the age group 12 years and above; the vaccine is also approved for limited use in emergencies in the age group 12 years above. This vaccine will initially be used in seven states, including Maharashtra, Tamil Nadu, Uttar Pradesh, Punjab, Jharkhand, Bihar, and West Bengal.
Bharat biotech is conducting a Phase II/III clinical trial of Covaxin on wholesome volunteers aged 2 to 18 years. The company has already submitted interim safety & immunogenicity data.
The Serum Institute of India conducts a Phase II/III clinical trial of nanoparticle vaccine (Novavax) in 920 subjects of more than two years to 17 years. On December 14th, Adar Poonawala said that the company plans to launch the Novavax COVID-19 for children within six months. Adar Poonawalla told in a virtual conference organized by the Confederation of Indian Industry that the Novavax shot had shown astounding results in trials in children aged three and older
Biological E Ltd. is conducting a Phase II/III clinical trial of RBD of SARS- CoV-2 gene in 624 subjects of more than 5 to less than 18 years age group. Johnson & Johnson Pvt. Ltd. is conducting a Phase II/III clinical trial of Ad 26COV.2S vaccine in the age group of 12-17 years.
Are There Any Side Effects Reported?
No severe side effects were reported in trials for children. After vaccination, a tiny percentage of older age groups, primarily male adolescents and young men, have developed myocarditis or pericarditis. But most of them recover quickly and don't have lasting effects on their heart.
Also Read: Side Effects of Pfizer's COVID-19 Vaccine
Only the Pfizer vaccine is used for inoculating children between 5-11 years, and the USA has already started to vaccinate children with the Pfizer vaccine. Other countries are reviewing the situation and will inoculate children shortly. None of the children who received the Pfizer vaccine (between 5-11 age groups) developed myocarditis or pericarditis. The benefits of COVID-19 vaccination surpass the risks of myocarditis after vaccination. The Pfizer study claimed that the vaccine is 90.7% effective in safeguarding kids (aged 5-11 years) from developing various symptoms from COVID-19 infections.
What is Causing a Delay In Children's COVID-19 Vaccine?
In August 2021, the Drug Controller General of India (DCGI) permitted Zydus Cadila for its COVID-19 vaccine (ZyCoV-D). The vaccine was approved for children between 12 years and above.
Two months later, in October, the Subject Expert Committee (SEC) approved Bharat Biotech's Covaxin for kids between 2 and 18 years.
But Why Children In India Have Not Yet Received Any Vaccines?
On November 8th, Zydus and Cadila stated that The Ministry of Health and Family Welfare (MoHFW) had ordered one crore doses of Zydus Cadila's three-dose COVID vaccine. According to the company, the centre will purchase Rs. 265 per dose from the company. But negotiation is still on, which is causing the delay in vaccination.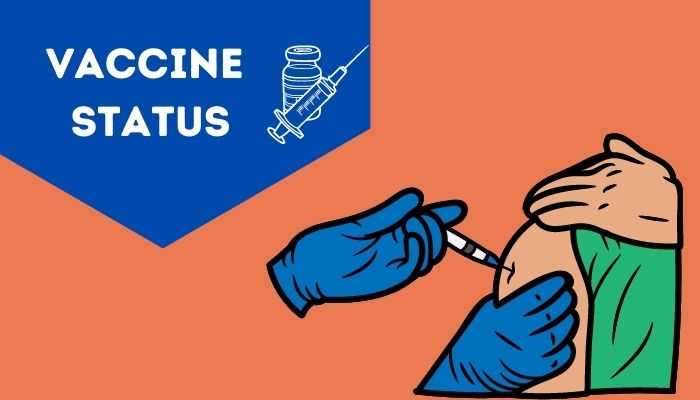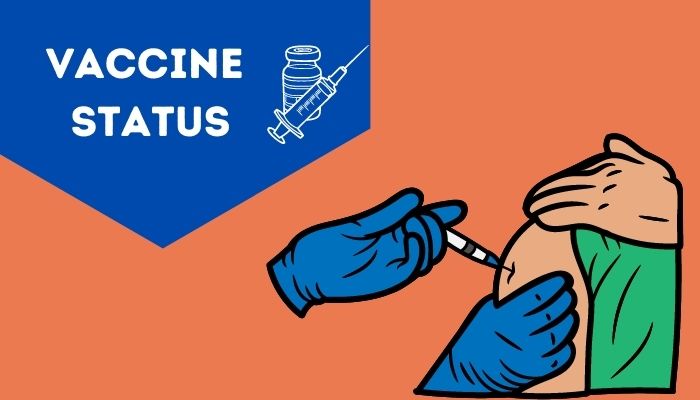 On the other hand, though SEC (Subject Expert Committee) recommended the DGCI use Bharat Biotech's Covaxin for 2-18-year-olds, on October 12th, DGCI was not yet approved. The DGCI has asked for some more information on two subjects related to clinical trials of Covaxin on children
      The number of participants in each age group
      All details of adverse events that are reported after vaccination
When Can We Expect Vaccines for Children?
According to a report by NDTV, COVID-19 vaccination for children with comorbidities or health conditions will start in January 2022. All other children may start to receive vaccination from March 2022 onwards. The government will start COVID vaccination for kids only after Bharat Biotech's Covaxin is approved for children aged 2-18 years. As per the government, the supplies of Zydus Cadila's DNA vaccine Zy-CoV-D will not be sufficient to start inoculating children.
COVID vaccine is the utmost way to enhance protection against this lethal coronavirus. These days, one new strain (i.e., omicron) is spreading rapidly in all countries. So, every nation should try to inoculate all citizens (both adults and children) to uplift protection and immunity. Though the COVID-19 is not lethal for children, they should be vaccinated as soon as possible to stay safe and protected.